Unveiling 12 Stunning Barndominium Ideas for Your Dream Home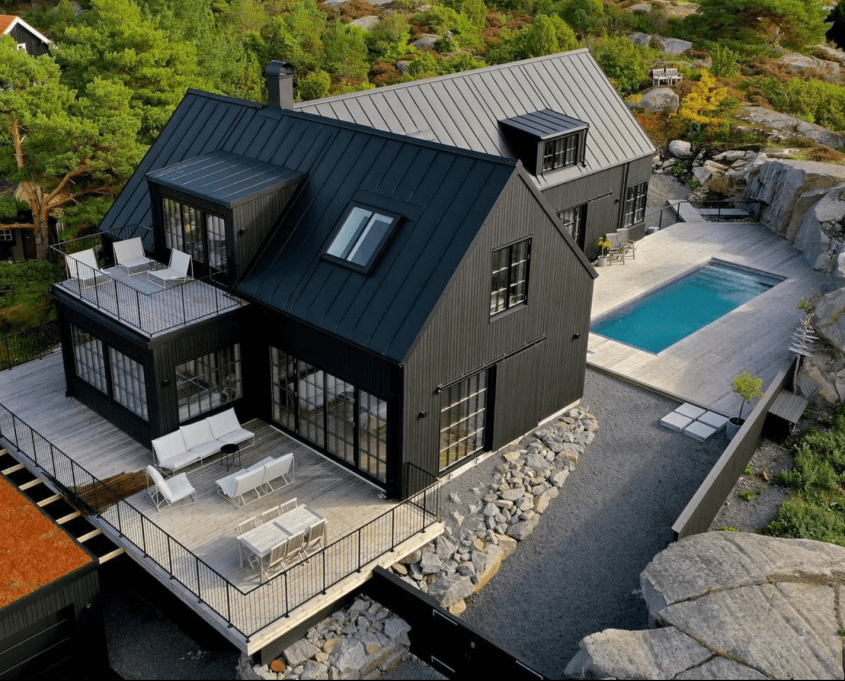 Amidst an ever-evolving influx of modernization, the flavor and inclination of people to reimagine things have made a wholesome spike. The domain for it addresses multiple fronts; however, accommodation and comfort is one such factor that has seen a massive degree of experimentation both for a location that people won't wish to compromise with.
People are willing to be redundant in urban living and are eagerly looking for some quiet space around nature that ensures them much-needed peace amidst a hectic lifestyle.
One similar home style that has immensely grown in popularity is Barndominium. The concept of Barndominium Ideas is new that enables the construction of habitable homestays for a beautiful living experience.
And if you are also among those who wish to live the rest of their lives in a similar ecosystem, then this list is for you and will prove to be an element of immense help to find luxury and peace in your dream home.
1. Extended Balcony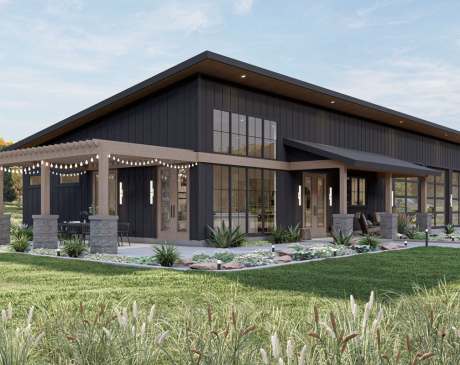 This barndominium idea allows the owner to use the barn space for an extended balcony. A usual two-bedroom space does not take up too much space. However, the barn space or the extended land space can be converted into a large wooden balcony with a cozy sitting area and soft pillows. It is a perfect area to set up a soft mattress for stargazing.
For some people, this idea might seem similar to a garden setup for the house, but the extended balcony with at least 60% coverage provides a comforting and safe space, providing appropriate shelter in times of rain, old, or heat. This place can be used to make a permanent fireplace for recreational evenings.
2. Victorian Aesthetics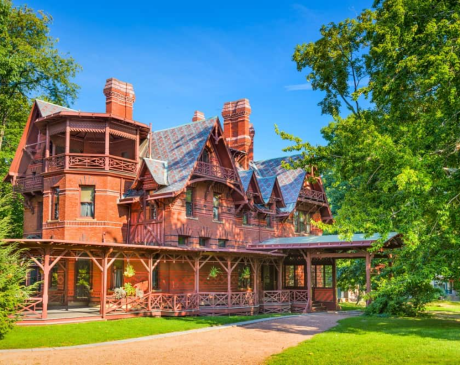 Living in a house having a vintage European style design is a childhood dream of many. Based on numerous Victorian web series and movies being displayed nowadays, it has become a legible dream of all. This is the reason why so many Victorian heritage sites are being renovated as homestays for travelers.
Victorian aesthetics are popular for traditional designs with a classy approach. The design gives a chic and comforting look while making it spacious and gorgeous. The bed and other furniture chosen are elegant. With a good combination of upholstery, the place gives out a high-class or even royal look. Make a note that it can be expensive to upkeep the place and its requirements.
3. Farmhouse Style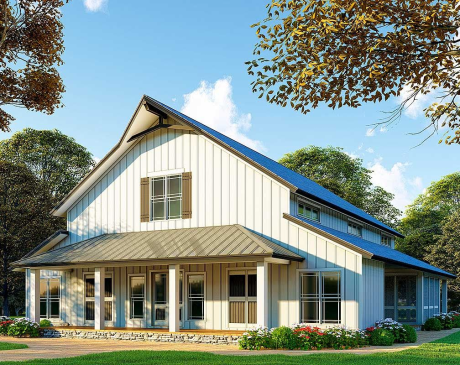 Most people desire to own a farmhouse to catch a breath from the hustle and bustle of the city. It is perfect to use the farmhouse style for the barndominium ideas. This is a great chance to kill two birds in one shot. The barn space gets used up appropriately, and your wish for a farmhouse is fulfilled. Installing a hot tub or a swimming pool to the central theme can be an excellent option to enjoy vacations whenever possible.
It is best to choose light shades for interior design that gives out an authentic country-style character. Barns and farms are closely related, so choosing a Farmhouse barndominium provides proper structure and character. Wood can be used for furniture paired with a beautiful garden around. Since it is a farmhouse, creating a big kitchen garden with tall trees filled with fruits helps in making the place authentic to its name.
4. Large Kitchen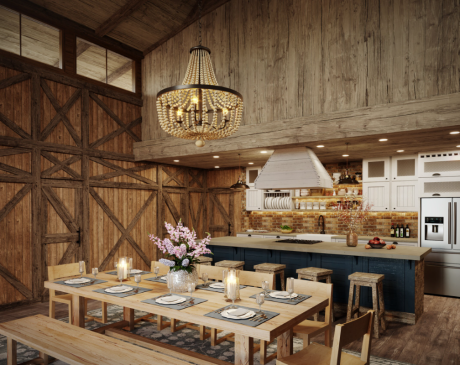 Barndominium calls for long vacations or stress breaks. Cooking is one of the many activities perfect for a bond with the family and unwinding. Barndominium ideas must incorporate a large kitchen. This enables the owners to relax while cooking in the large kitchen adjoining the living area. Some Netflix, wine, and cooking give out a perfect combination for a fun vacation.
Make sure the kitchen is equipped with all amenities required. This further helps in easing cooking. Kitchen stools and miniature kitchen equipment, maybe from the kitchen sets, can be a perfect way to engage children in learning activities besides practicing it live. Make sure to get appropriate supplies of ingredients beforehand.
5. Rustic Barn House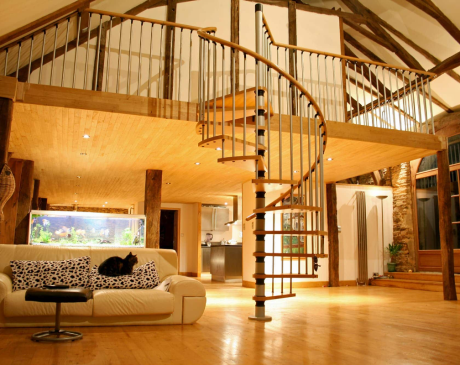 The rustic barndominium idea refers to the use of a typical barn house design, with wood being the primary resource required. The wooden structure is given to the house with a typical design resembling the barn. It is one of the simplest barndominium ideas that gives a vintage look. A vintage abode amidst nature can be a refreshing place to escape to.
A wooden staircase is an important structure to create an authentic rustic barndominium. The location of the staircase can be inside or outside as per the space available. Make sure to install tall windows in the proper directions to light up the space with natural light. Flowy curtains from the ceiling to the floor will look quite exceptional here.
6. High Rise Ceiling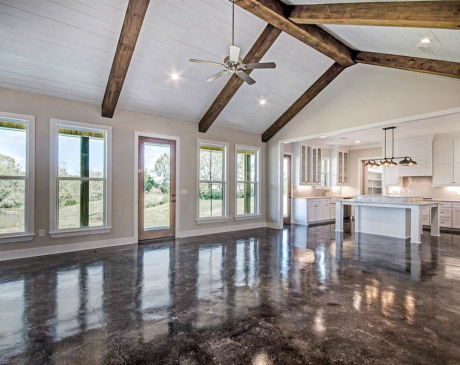 Barndominium gives a good opportunity to enjoy the comfort of a high ceiling. Make sure to map out the barndominium structure with a higher ceiling than normal. The structure of barndominium ideas may vary, but the ceiling can be a constant. This Barndominium idea gives a spacious look to the house, making it even prettier when accessorized with tall lights.
Creating a vaulted ceiling goes quite well with a high-raised ceiling. Both features complement each other in an unbreakable way. However, the vaulted ceiling might be only possible only in the topmost floor in the case of a multi-storeyed barndominium. An elegant chandelier hanging on top of the coffee table in the living room is a must-have.
7. Cozy Bedroom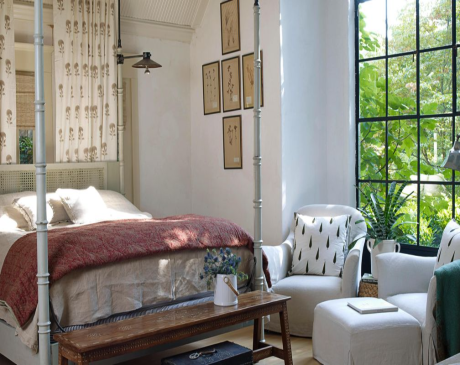 After a tiring day with lots of traveling and exploring, we all yearn to lie down on our beds. So, it is a must to design the bedroom in the coziest way. It is proven that a good night's sleep has a huge impact on the mood of the person the next day. Make sure to pick out a large space to build a cozy bedroom with an attached washroom.
The bedroom must be very simply designed with a king-size bed and lots of pillows. Here, we do not require showcasing exuberant designing skills. It is better to have a simpler design. A ceiling window could also be installed. A little peek into the night sky while waiting around for sleep can be an artful addition, with the bedroom having a direct passage to the balcony.
8. Connected Stable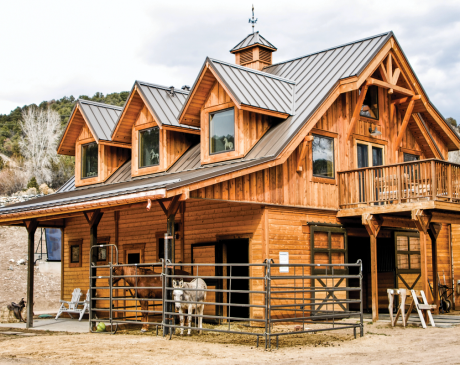 For all animal lovers, a connected stable is a must. Horses are one of the most commonly petted animals in the barn dominium. So, one of the logic-driven or practical barndominium ideas is to create a connected stable. By connected stable, we don't mean to merge the living spaces between the two. The connected space only makes the stables easily accessible to the residents without too much unnecessary walking.
Connected passage with animal sheds or stables, according to the animals, makes it easier for the kids to play and feed with them. On the other hand, it makes it easier for parents to keep a constant eye on their kids. It is important to have strong horse tie rings to tie up the horse so that they do not run away.
9. Compact Barn House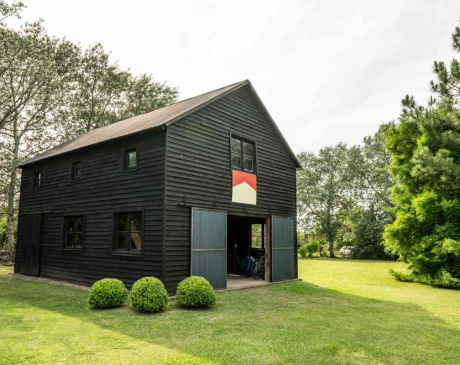 The compact barndominium idea is one of the most budget-friendly for constructing one. It does not require affluent designs or upholstery to define the look. The compact barn dominium offers basic amenities with good space and a comfortable stay.
Compact barn dominium is usually single-storeyed with extensive use of the land or garden around for storage or sitting. This space is not always furnished. Plain land simply works. Though it may look compact from the outside, we can select appropriate furniture that will make the space look big. Including tall mirrors or mirror wardrobes in the bedroom is a good option.
10. Apartment-Style Barndominium
Apartment-style barndominium ideas are quite rare but still worth a shot. The definition of an apartment stays intact; just the place it is being constructed upon changes. Barns do not always showcase the construction of multi-storeyed buildings, at least not more than ground plus one.
The concept of high raised ceilings along with tall window glasses would give a spacious look to the apartment. Keep the color scheme to the lighter shades of the spectrum so that it mingles with the natural light. A comfortable sofa and sitting area and a bed would be a perfect setup for the terrace.
11. Barn House with a Yard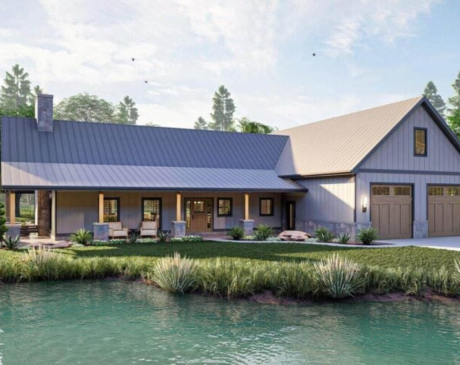 Barndominium ideas do not just talk about constructing four walls together in different styles. Barn houses can surely use a picturesque landscape with a good amalgamation of trees, flowers, and resting space. The motive to visit or stay at the barn dominium is to soak into nature and its beauty. The only mandate requirement for such an affluent dream is to have a large land space and sufficient investment to turn the dream into reality.
The barn dominium must be surrounded by a garden on at least two sides, which must have a few additions in the form of tall fruit or medicinal trees like Peepal or Mango. Or the construction of a water body would also do justice to the overall aesthetic of your house. Make sure to have all the important garden equipment for gardening.
12. Modern-Day Barn House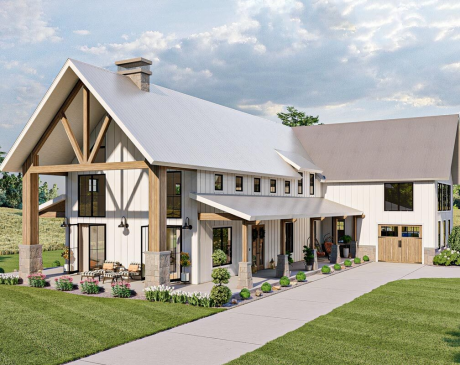 A modern-day barn house usually accounts for a place having all modern amenities similar to the city. The concept of a modern-day barn house can be easily sketched out following a few guidelines from some of the skyscrapers around the U.S. The barn house must be multi-storeyed or made like a penthouse with comfortable living space along with cozy bedrooms. Traditional fireplaces can be replaced with electric ones for better convenience.
A patio with good sitting arrangements to soak in the sun or work instead of stepping in the fields. It is best to install a sunshade to enjoy the space even with intense rays. The possibility of pets like horses or cows is uncertain. The modern house can resemble a bungalow in a city as well.
Conclusion
Here's presenting a mixed bag of barndominium ideas catering to all sorts of expectations, be it simple, extravagant, nature-friendly, pet-friendly, or even budget friendly. Furthermore, the most important element to bind a particular barndominium idea is to keep the emotion of the place intact.
These houses might just be vacation homes, but the emotion of a home cannot be moved and inserted every 3 months or annually. It is the character and vibrance of the place that attracts our hearts toward it. Now wouldn't you want a home-like experience while vacationing?
Design from the heart, and the barn dominium will call your heart too! The trendy colors, furniture, or design concepts are only for a season or two.
But here, we are keen on building a home. So, make sure to go through the article and find the style that perfectly brings out the best character from the given set of ideas.