10 Ways To Spruce Up Your Kitchen With Oak Cabintes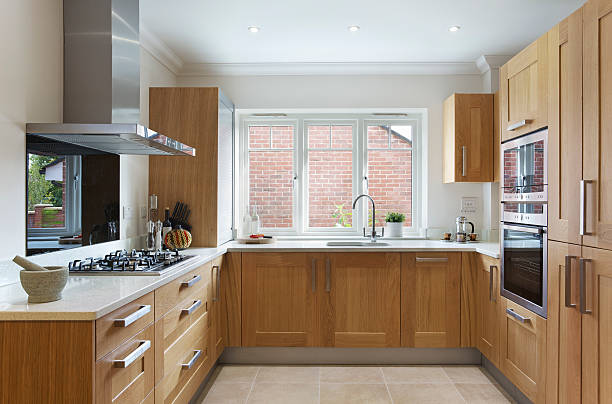 A captivating modern kitchen design showcases the natural elegance of oak with minimalistic designs or combines it with bold elements for a striking contrast. It is in a kitchen where the allure of oak kitchen cabinets takes center stage. 
With its undeniable charm and versatility, oak offers endless possibilities for creating a contemporary and stylish culinary space. From selecting the perfect shade to complement your color scheme to sleek handleless cabinet doors that exude sophistication, every meticulous detail plays a crucial role in achieving a modern look.
Known for its exceptional durability and distinctive grain pattern, oak adds natural beauty and timeless character to any piece, providing depth, sophistication, and a touch of rustic elegance.
Get ready to explore these 10 inspiring ideas that will transform your kitchen into a haven of contemporary elegance, harmonizing the timeless appeal of oak cabinets with modern design elements.
1. Change the Hardware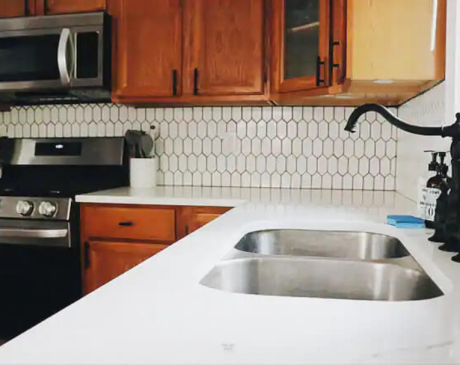 Using outdated, worn-out hardware can be very disconcerting. However, upgrading a modern kitchen with oak cabinets of top quality and properly painted handles and knobs can make a world of difference. Black is a smart option that can be considered when you start browsing for new hardware. Such accessories allow the allure of oak kitchen cabinets to be the cornerstone of your modern kitchen design.
Consider the color palette of other items in the kitchen, like faucets, sinks, countertops, and more, when choosing the hardware for your kitchen. Although dark oil-rubbed bronze and bright chrome, along with black, provide the best contrast, you have to make sure that everything is in harmony with one another.
2. Add Glass to a Few Key Doors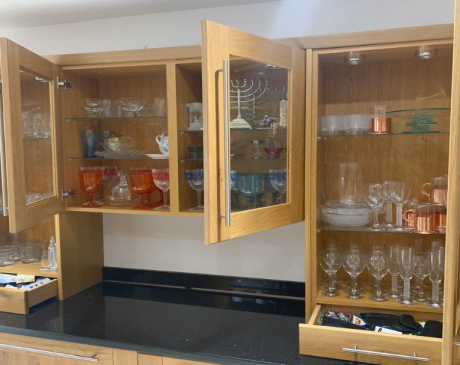 Glass is a minimalist's favorite accessory. It gives a feeling of openness, provides luster to space, and enhances its vastness. Since it is discreet, glass allows an abundance of light in a room, is a great structural component, and will add to the aesthetic value of your kitchen. You can experiment a lot with various types of Glass inserts.
For instance, you can showcase your crockery collection or your whiskey and wine collection by installing fully transparent glass in your oak cabinet. However, if you wish to keep it private, you can go for frosted glass inserts or mirrors with acid wash, as they will also make your kitchen look modern and accentuated.
3. Install New Stainless-Steel Appliances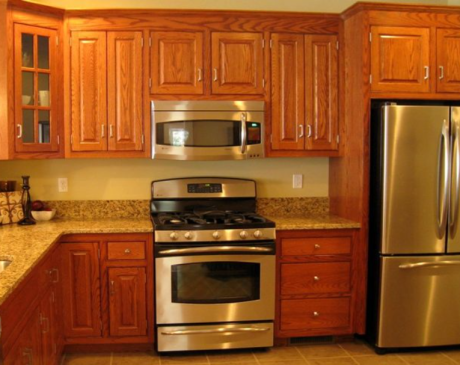 The latest refrigerators, ovens, dishwashers, and other electronics with a stainless-steel surface will reflect light and also give a visual lift to the kitchen. The sleek grey accents can amplify the look provided you change the color palette of your walls with cool colors so that it goes well with the steel handles and knobs. Whether you prefer a chic and minimalist approach or a warm and inviting atmosphere, designing a modern kitchen with oak cabinets offers boundless opportunities for creativity and personalization.
Modernizing your space that has golden oak furniture can be challenging as well as expensive. Installing new appliances can burn a big hole in your pocket, so another way to go about it is to install stainless steel panels on cupboards.
4. Give Your Walls a Makeover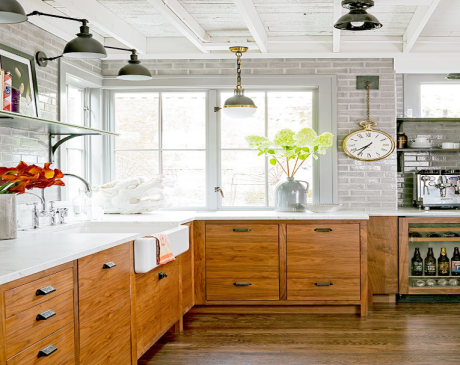 Tiles with geometric designs can add a contemporary touch to your kitchen with oak wood cabinets. However, if you do not wish to install tiles in your kitchen, you can even stick wallpaper to add more drama to your space. Statement walls can create a focal point in your kitchen and is a fully-proof contemporary way to upgrade the appearance of any kitchen.
With careful consideration and attention to detail, you can create a space that not only meets your functional needs but also reflects your personal style and leaves a lasting impression on anyone who steps foot into your kitchen. To grab the attention of a person, getting rid of a busy floral wallpaper is a must. Immediately replacing it with something that is either clean or that has a design with solid angles can add a modern twist to your culinary temple.
5. Keep Your Kitchen Clean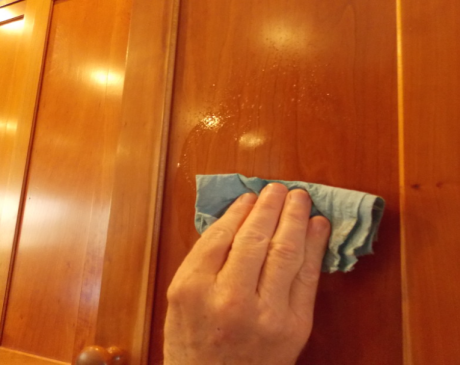 There are majorly two ways to go about it. First, you can do so by painting your walls with light colors so that it subdues the orange hue of your cabinets. For instance, cool colors like blue and grey can accentuate the orange tone of your cabinets. Since modernists like to play with neutral colors like beige and grays, they will try to avoid anything that will bring out the bright side of any color. However, if you want your kitchen to seem warmer, paint the walls with colors that have a warm undertone. This will allow your kitchen to look more cohesive and bring everything together organically.
Eggshell white, beige, cream and even something with a warm olive tone will complement the oak wood cabinetry of your space. Secondly, try cleaning your cabinets with a wet and warm cloth to wipe the grime. The cabinets will start shining and look as good as new by following the simple step.
6. Replace Kitchen Island and Countertops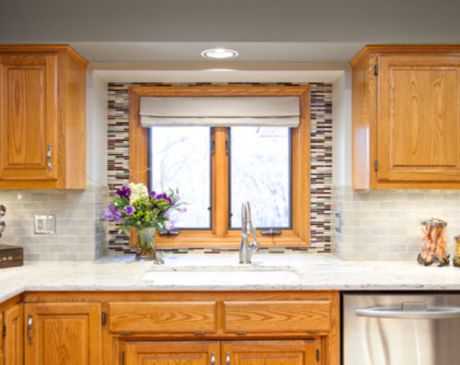 One of the main elements of a kitchen is the kitchen island. If you wish to alter the appearance of a kitchen drastically and instantly, you can do so by altering the position of your kitchen island. Modern kitchens have island tops that are clean and laminated as opposed to conventional kitchens that have countertops with deep colors and are textured with grain patterns.
A black-colored countertop, plain white, or a veined white countertop would complement the wooden oak cabinets perfectly and make your renovation process a success.
7. Experiment with Light Fixtures
Pendant lights with eye-catching colors like gold and green or a sleek candle chandelier can be enough to modernize your kitchen while maintaining the oak wood honey brown colored cabinets. Hanging lights with pleated lamp shades or large pendant lights with unique shapes hung high can make your kitchen look contemporary. Any accessory that has a height will add more drama to your space and stand out, which will add to the visual appeal of your room.
To update your kitchen, clear orbs can also make a lot of difference as they can make a room look bigger, and you can even mix and match them with pendant lights of different shapes. Create a focal point like spreading a rug.
8. Modernize your Furniture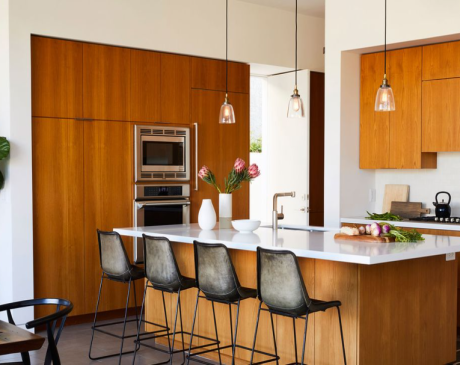 If your kitchen has traditional wooden furniture, get rid of it. To modernize your kitchen, start by replacing heavy wooden furniture with lightweight tables and chairs. Modern furniture has straight lines and sharp angles that give a clean and cool look. You can even do away with a dinner table and buy bar stools that can be placed by the kitchen counter.
However, if you love the wooden finish, go for bamboo highchairs that will match the aesthetic of the oak wood kitchen cabinet but give your modern kitchen a rustic look at the same time. Introduce wine racks, larder units made of oak to harmonize the appearance, kitchen benches, and other such items to add a modern twist to your space.
9. Create More Space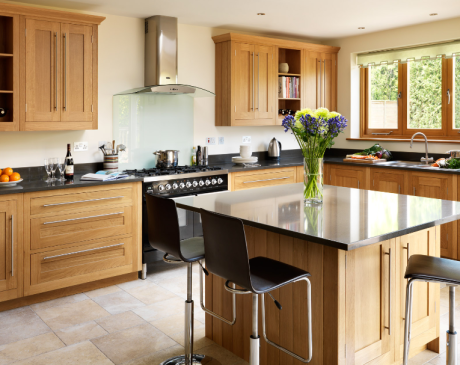 Traditional kitchens had cabinets that would touch the ceiling. To modernize your kitchen, try removing these extra cabinets to create more space and minimize the clutter. Modern kitchens are breathable, characterized by efficiency, and equipped with in-built appliances or hidden units. Embrace the endless possibilities and let your imagination soar as you bring your unique style to life.
Stand-alone appliances are characteristic of traditional kitchens. Since the color palette includes warm colors, traditional cooking spaces have a warm and welcoming vibe. Through all this, oak is the perfect companion that steps forward or gracefully recedes to the background as needed. From sleek hardware and fixtures to creating a seamless flow between indoor and outdoor spaces, your design journey can result in a functional and breathtakingly modern kitchen.
10. Select the Right Accessories and Remove Unnecessary Ones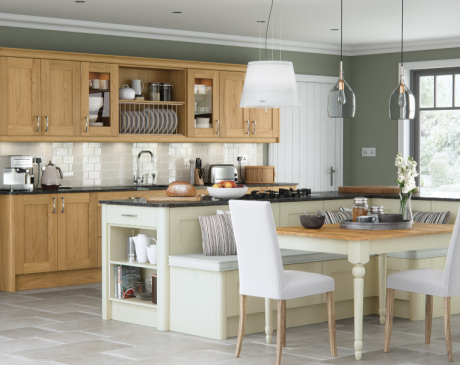 Decluttering your kitchen is the first step when you start the renovation process. Minimalism is the chief characteristic of modernism. Remove all the unnecessary wall hangings, artificial plants or flowers, and heavy curtains or blinds, if any, from your kitchen and allow the corners to breathe.
This will help you to keep your kitchen clean and also let the oak wood cabinets be the highlight of your cooking space. Designing a modern kitchen with oak kitchen cabinets elevates your culinary space and infuses contemporary style and timeless beauty. Each design choice, from selecting the perfect shade of oak to complement your color scheme to embracing sleek and handleless cabinet doors, contributes to a cohesive and modern look.
Conclusion
Oak cabinets are not a whim but an investment in style and durability. With their timeless appeal and ability to stand the test of time, they will stay with you for a long time to come.
There are ways and measures to incorporate the versatility and natural beauty of oak into your modern kitchen design. Open shelving and glass-fronted cabinets provide opportunities to showcase your favorite kitchenware, adding a personal touch to the space.
Integrated appliances, minimalist countertops, and strategic lighting techniques further enhance the modern ambiance, ensuring a seamless and uncluttered kitchen environment.
Let us know how you have upgraded your kitchen with oak cabinets, and share with us your creative ideas in the comments.