25 Creative Rustic Wedding Decoration Ideas to Inspire You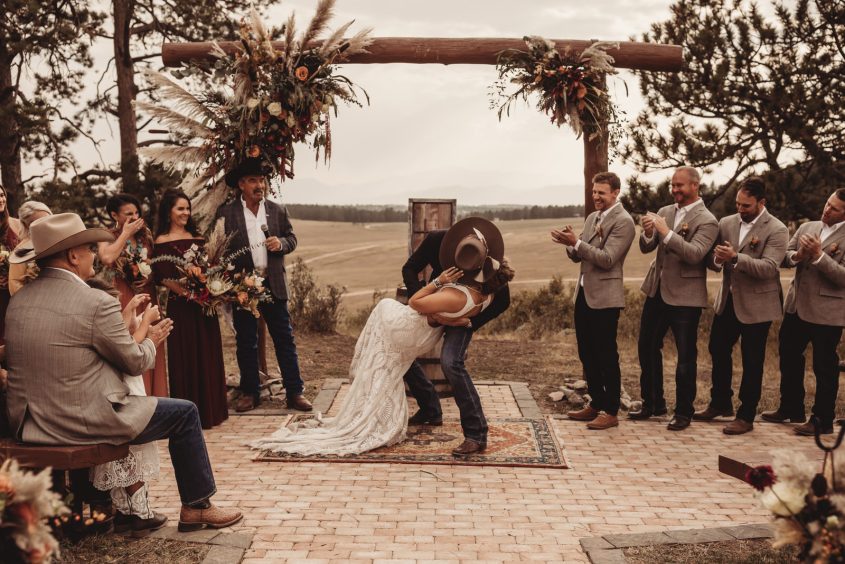 Rustic weddings are popular and prevalent around the world because of the unique kind of beauty they exhibit. People love these kinds of weddings not just because of how breathtaking the decorations look but because they love nature and don't have a need to throw a fancy wedding.
A person who loves simplicity but still carries style is more likely to go for a rustic wedding. Rustic weddings and bright colors do not go hand in hand because the wedding theme does not have much to do with bright and loud colors. Anything sober is highly regarded in a rustic wedding.
A rustic wedding will give a natural vibe to anyone who is an eco-friendly person, as the wedding decorations are mostly done with reusable items and natural flowers and leaves. And this type of wedding is mostly held outdoors, like in the forest, backyards, or in the farmhouse.
1. Go Natural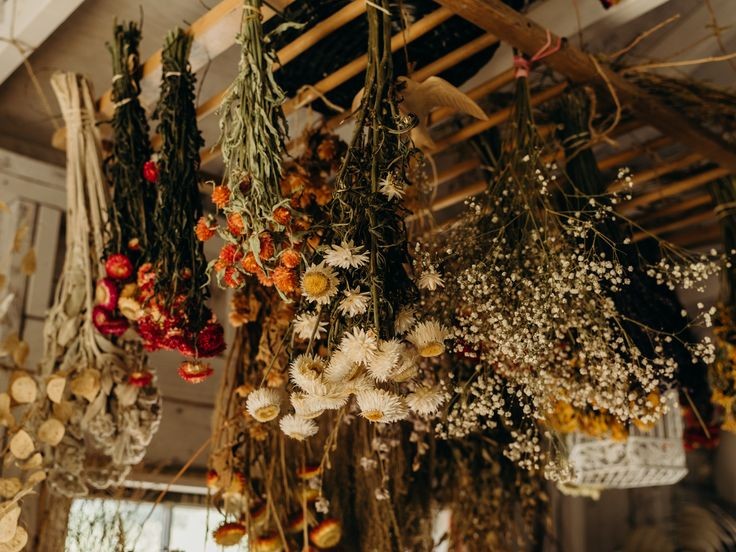 You can't imagine a rustic wedding without the presence of natural items. Make sure you arrange the decor items in such a manner that they are all natural – from the flowers to leaves to tables to chairs and so on. Dry flowers complement so much with rustic wedding aesthetics that it's not really a typical rustic wedding without their presence. Other important decorations include wooden logs and tree branches.
2. Pick a Countryside Location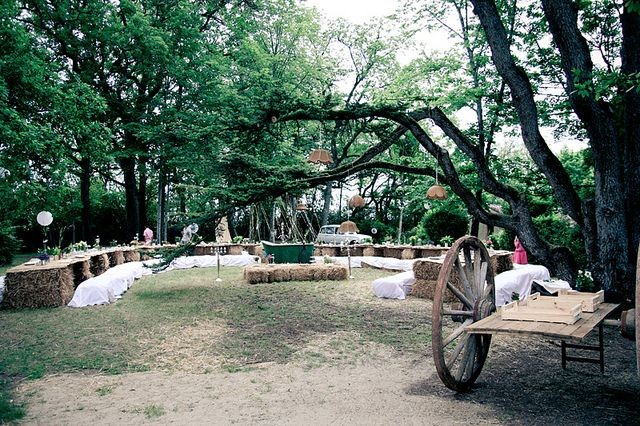 The perfect location for a rustic wedding is a quiet and tranquil countryside location. This type of wedding venue is not polluted, unlike the city, and you can get all the beautiful views of the trees and hills. Perfectly decorated with lights and flowers, the wedding venue will look extremely picturesque and unforgettable.
3. Wooden Arch Sounds About Right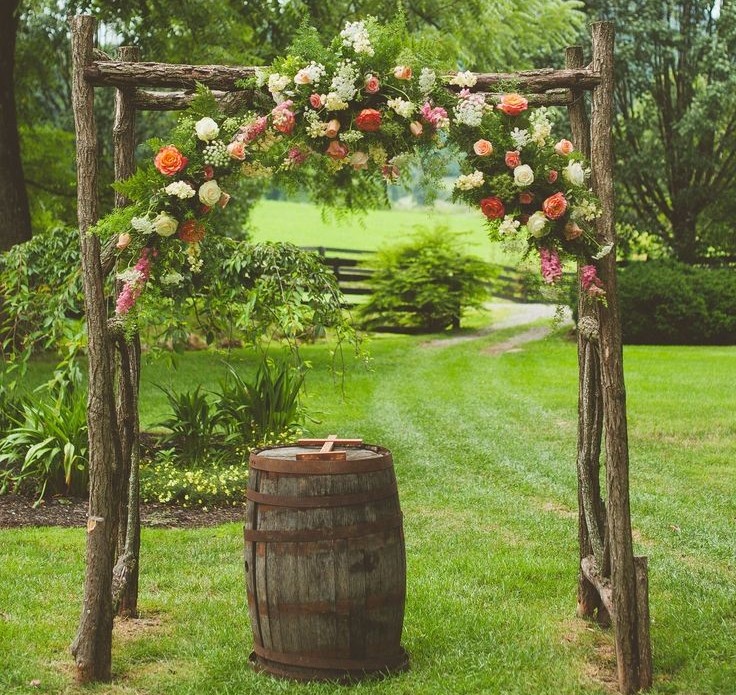 A rustic wedding without wooden items is like bread without butter. To keep up with the rustic spirit, go for a wooden arch instead of a metallic one. A wooden arch, beautifully decorated with not-so-colorful flowers and leaves, or sometimes bright lights, will add a traditional look to your big day.
4. Recycled Wedding Cards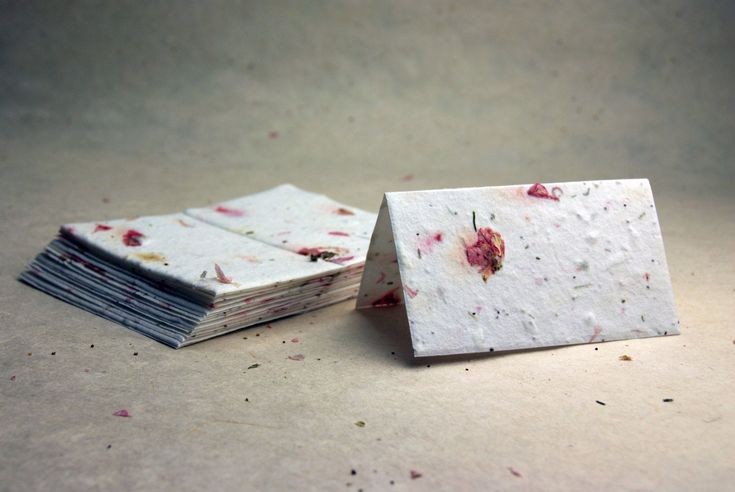 Here comes the interesting part! If you choose to have a rustic wedding, then you are probably someone who cares for the environment. Well, the good news is you can use recycled paper to have your wedding details printed. Another extremely good news is laminate flower seeds on recycled papers. So that after your wedding, when people discard your wedding cards, the seeds will sprout and give flowers. It's a win-win for both parties.
5. Focus on Autumnal Tones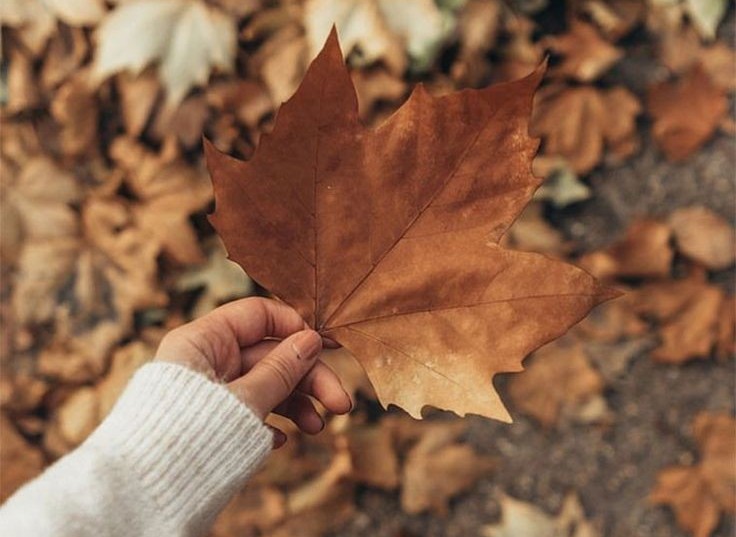 A rustic wedding normally doesn't have much color. In this type of wedding, anything dry and mellow is much more loved and preferred. Go for a theme that's similar to the color of autumn. Apart from a few flowers, making everything in pale colors will actually brighten up your rustic spirit.
6. Mason Jars Play a Big Role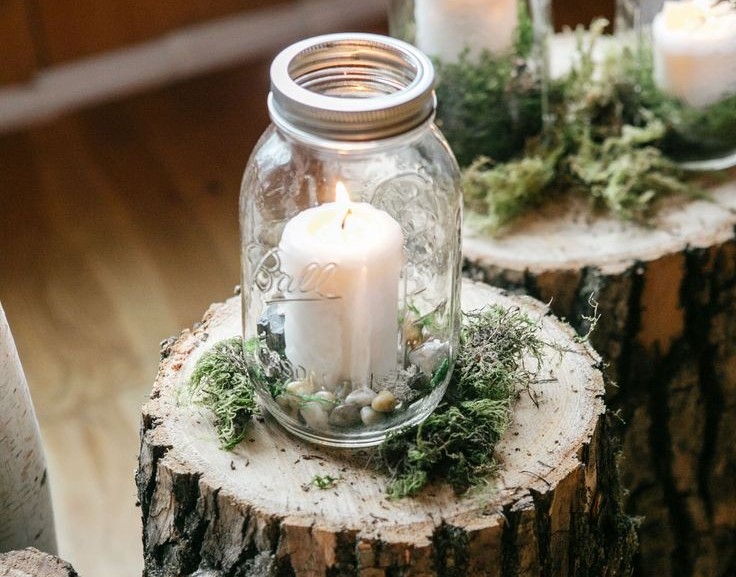 Who said Mason jars are just for sipping beverages? Sometimes they play very lovely roles as decoration pieces at weddings. Lay them on the tables and place fresh flowers to give a fresh and lively look to your wedding. Even scented candles look remarkably beautiful inside mason jars.
7. Fairy Lights Will Bring Magic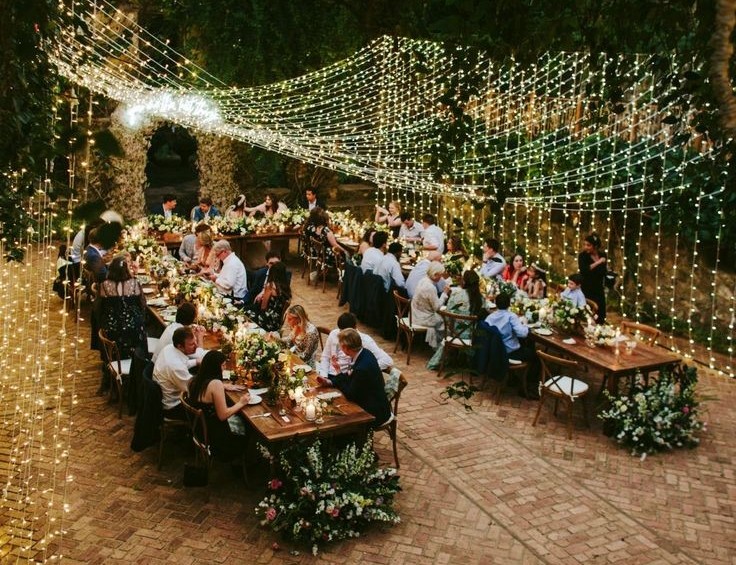 A wedding without fairy lights is so incomplete. Fairy lights bring the same energy as floral decorations. There are many ways you want the lights to be put up. Instead of a canopy, you can use fairy lights to cover the tables and the whole wedding area. The sight is so spectacular that you can't stop gazing at it.
8. Wooden Seats & Tables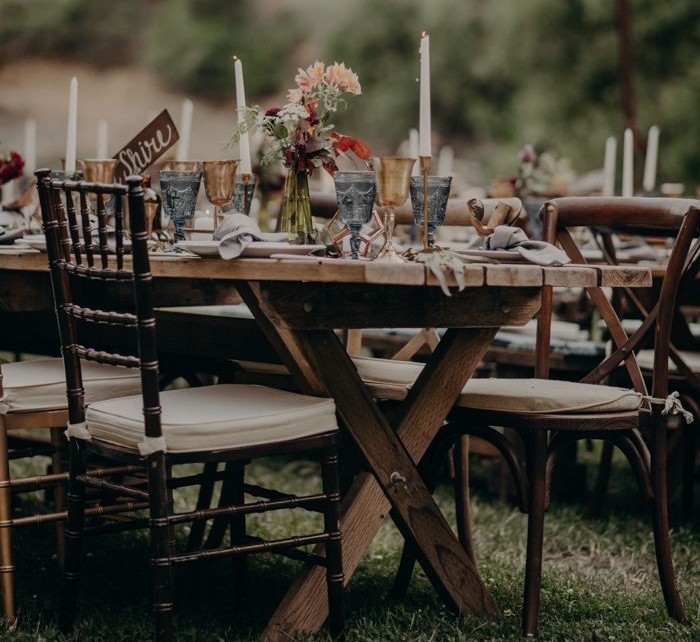 Wooden chairs and tables tend to vibe more with the rustic theme. And after all, rustic weddings are known to be more in harmony with organic and natural elements; the chairs and tables are better if wooden. Sometimes the tables don't have to look so smooth and well-furnished. A little bit of roughness is appreciated here so as to enhance the rustic aura on your big day.
9. Do Not Leave out Candles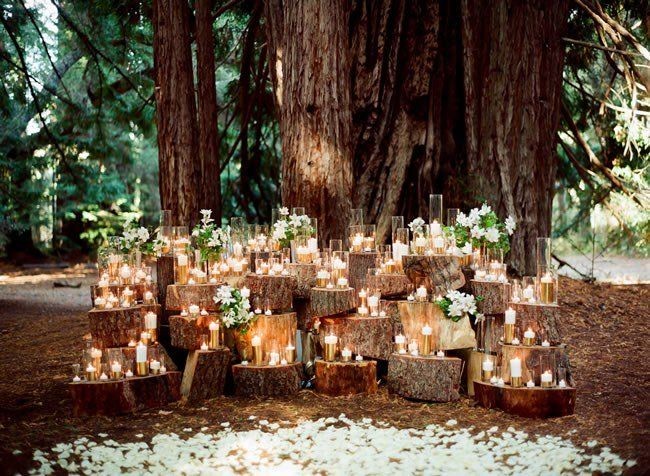 Candles, especially scented ones, will welcome warmth and a romantic atmosphere at your wedding. You can get gold-toned candle stands and glass candle holders and place them on the dining table and around the wedding arch, as it looks really lovely and warm when the candles are lit up. Scented candles are heavenly and enchanting.
10. DIYs are Lifesavers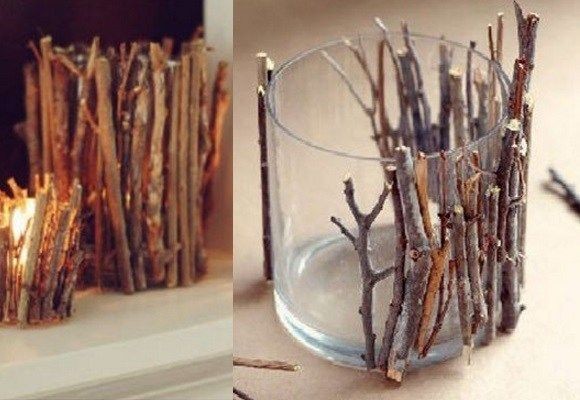 Focus on your DIY skills with all your heart and soul if you want your wedding to be an eye-catching event. Instead of hiring expensive decor items from your wedding planner, you can make your own DIY decor items. For Instance, get a glass tumbler, collect some dry twigs, get some glue, and start sticking the twigs around the glass. If you put a candle into it, it gives a dim light, inviting a romantic mood to all your guests.
11. Take Out Your Old Barrels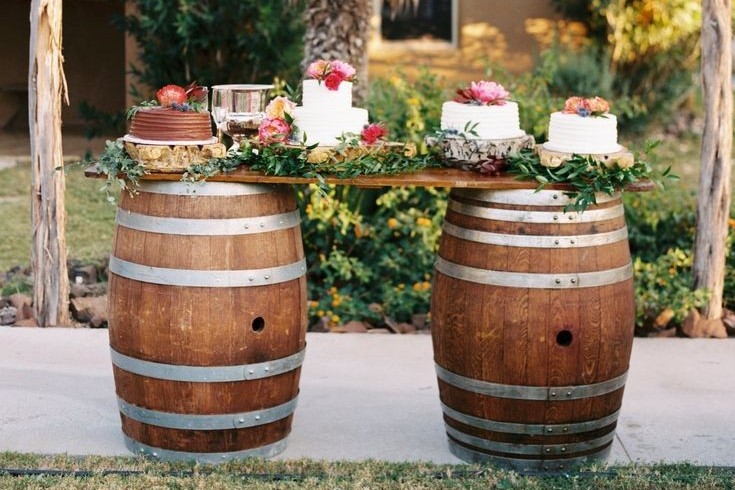 Barrels are so common in a rustic wedding. They are kept at wedding venues as props or as bar tables. They also make good flower stands, cake stands, and photo stands…. In short, they make a good rustic wedding aesthetic and never go unnoticed.
12. Give Wildflowers a Chance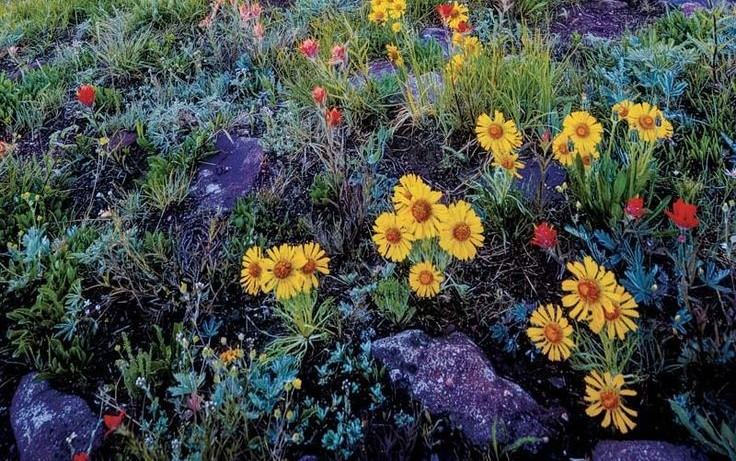 It's time for the wildflowers to shine. Wildflowers are exquisitely beautiful and promising to look at, and their absence is obvious. Set out to the nearby forests for the sake of your wedding day. These are full of promise and will add extra beauty and give meaning to the rustic theme. Dandelions and fireweeds, to be specific, are some really beautiful wildflowers. These flowers will do perfectly great on your wedding day.
13. No Icing on The Cake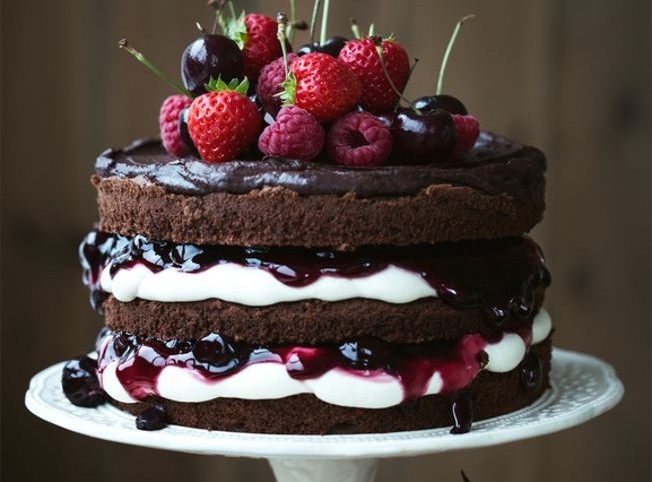 Most wedding cakes are classic white and dreamy and heavily decorated with edible pearls and other edible accessories. But for a rustic wedding, people usually go for 'naked cakes.' There is no icing on the cakes, just the base and some fruits or flowers. This is to blend in with the rustic theme, and these cakes are no less than regular wedding cakes.
14. A Memorable Photo Booth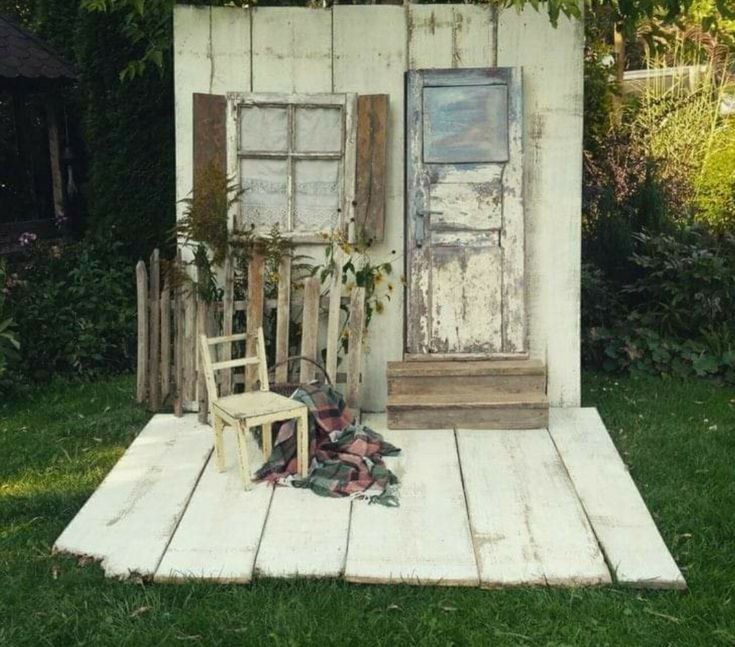 People nowadays want their guests to have fun at their weddings, so what they do is, spend extra time and bucks designing the best photo booth. A rustic-themed photo booth is timeless, and anybody (young or old) will love it. Choose a nice spot, place an old and rustic door and some antique things from your basement, and decorate it with some flowers and leaves. That's it, simple yet elegant.
15. Flower Crowns
Flower crowns for the bride, bridesmaids, and flower girls sound like a splendid approach to the rustic theme. Let the flowers from your garden finally be of service on your big day. Some flower crowns are big and colorful, and some are small and with not much color, but it all depends on how you want them to be.
16. Flower Chandeliers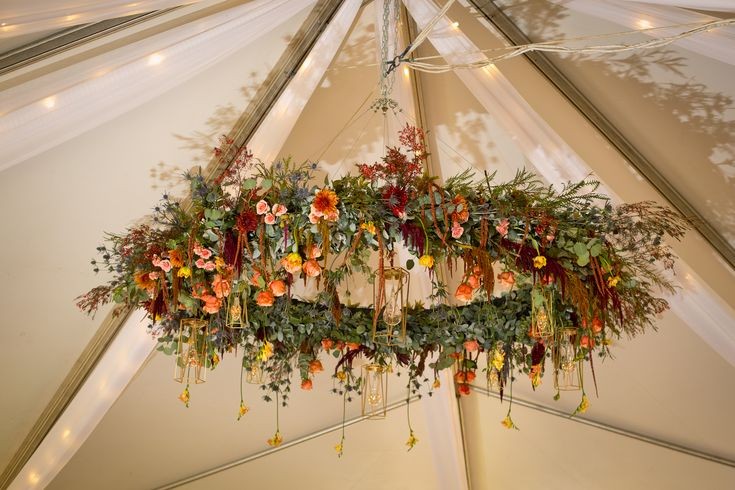 The actual crystal chandeliers bring elegance to the room, and just like that, flower chandeliers also bring equal amounts of elegance. But what makes them stand out more is that they are natural, full of life, and immensely charming to look at. The canopy no longer looks boring and lonely with the presence of flower chandeliers.
17. Add Less Color to the Bridal Bouquet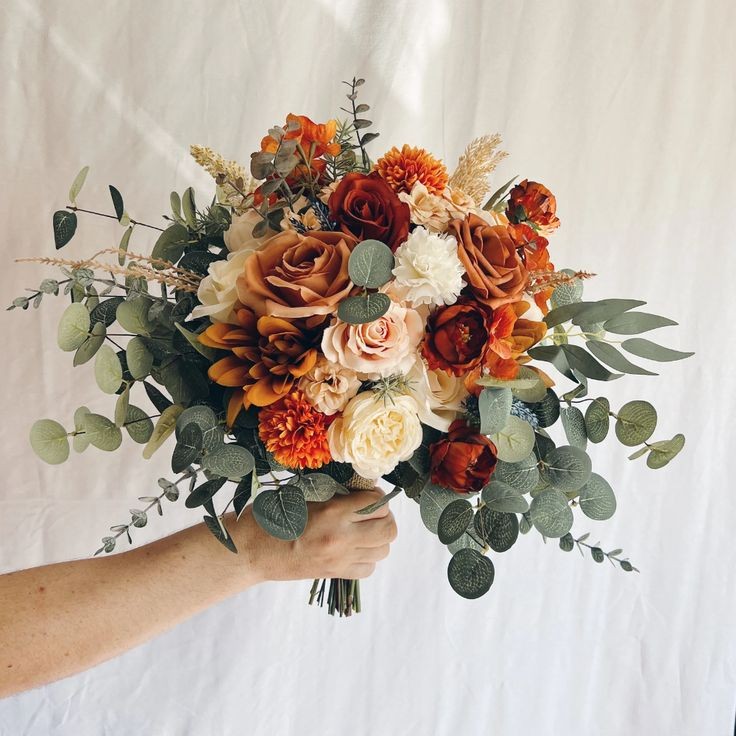 If it's a rustic wedding, it doesn't necessarily have to have color, and so does the bridal bouquet. Crimson red flowers or peach-colored flowers with some dark green leaves are common types of bridal bouquets at a rustic wedding.
18. A Wedding Favor is Always Favored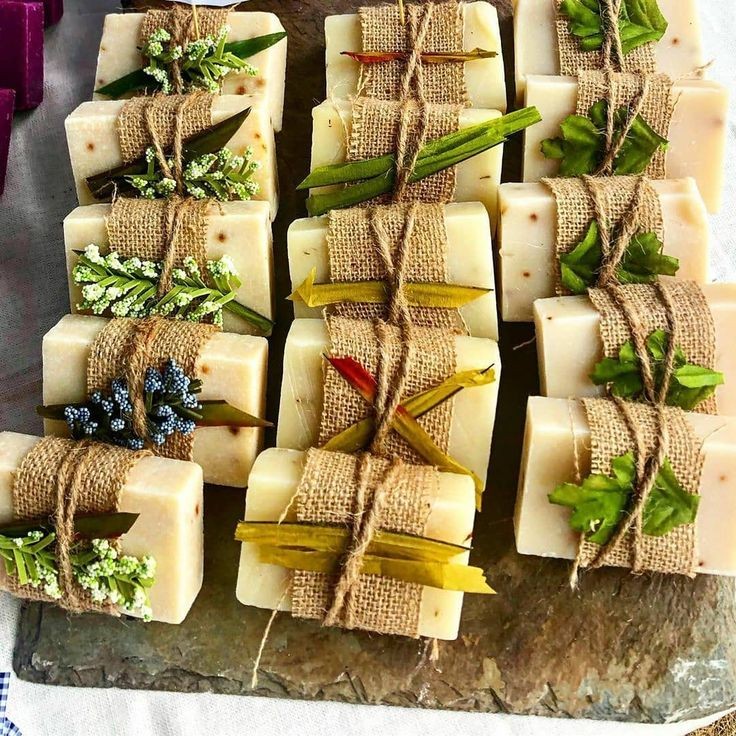 Who doesn't love a wedding favor? Many wedding favor ideas are organic and partially handmade. Considering handmade soaps with good fragrance and, most importantly, packed with eco-friendly wrappers will be a wonderful idea for thanking your guests for sharing your big day together. Another one is cookies in DIY boxes with personalized messages. So many good gestures for gracing your wedding!
19. Everyone Loves Photo Displays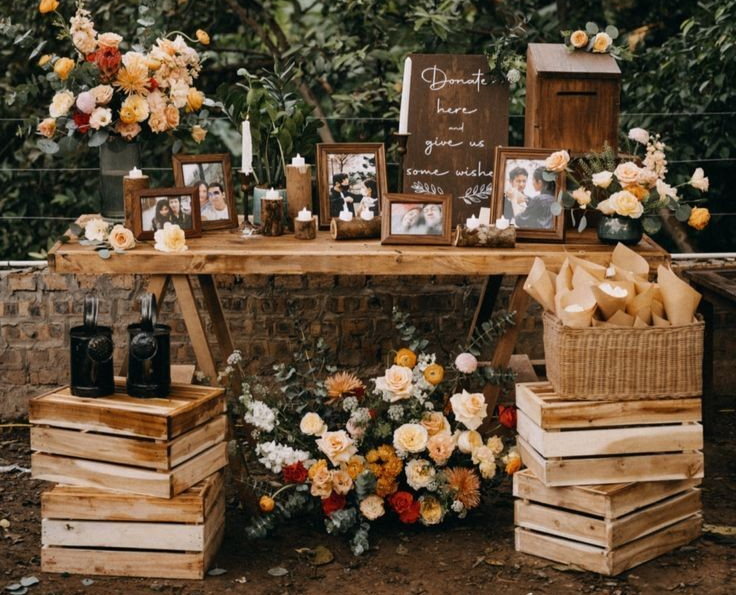 Photo displays of the bride and groom are a creative way of narrating the love story to the guests. Tie your photos to small strings and swing them down a tree or frame them and place them on a wooden table. And that way, your guests won't only enjoy the delicious food but the good and memorable photos as well.
20. Reuse Wine & Beer Bottles
Do not throw away the bottles as soon as you finish drinking. Keep them as they will be of service at weddings or at any occasion. Put flowers or fairy lights inside and keep them on the corners of the aisle, and when the bride walks down, it will instantly bring an aura of magic.
21. Simplify Your Wedding Attire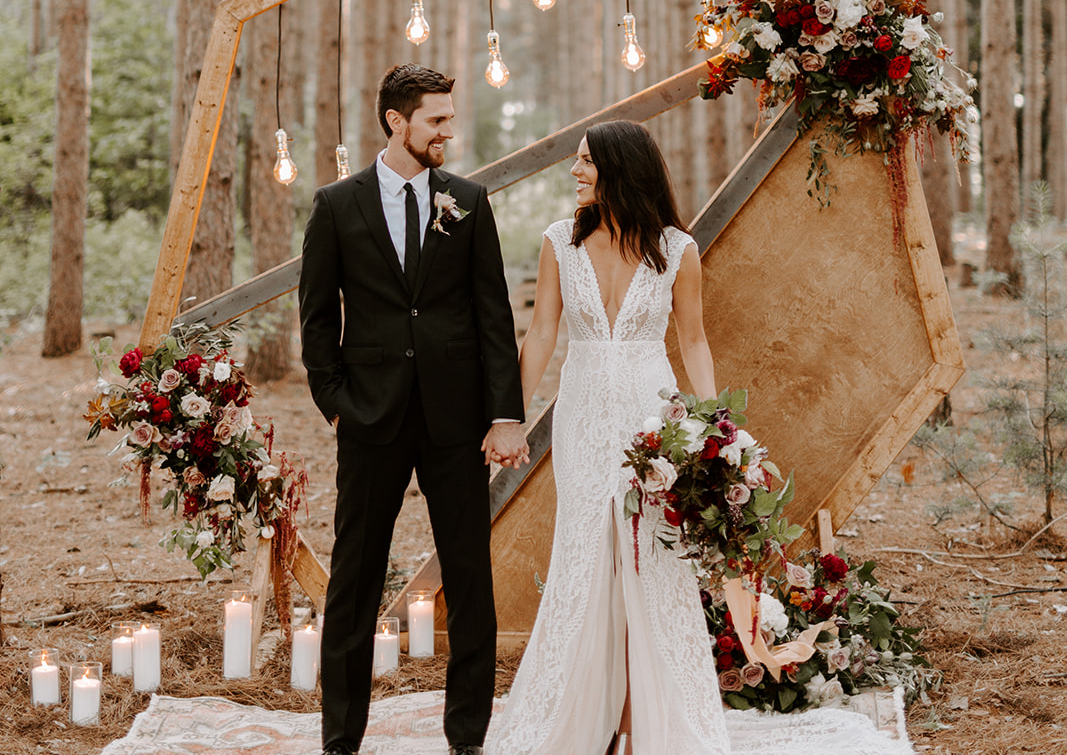 You chose a rustic wedding for a reason. You are either a minimalist, or you just want to follow the trend. Either way, you have to simplify your wedding dress as much as you can. Fairytale wedding dresses have to be kept away, and instead, mermaid-shaped wedding dresses will keep you in the limelight.
22. Display Your Garden Flowers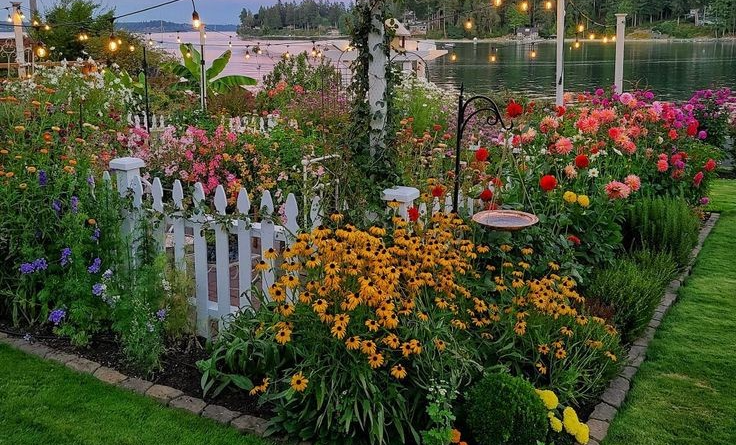 The flowers in your garden need to shine as well. Pluck some really good and healthy ones and decorate your arch and tables using them. Using your homegrown flowers is a smarter and more efficient idea than buying expensive ones from the florist.
23. Eco-friendly Confetti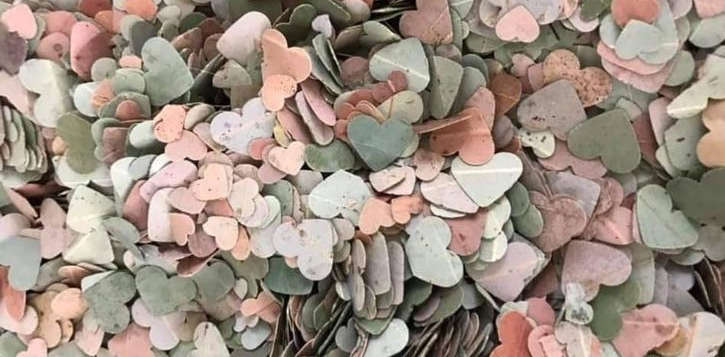 Lots of confetti is used during weddings and other parties, and they are made of plastic and not safe. So, using dry leaves instead of plastic is a thoughtful approach to the environment. Collect dry leaves, clean them, and cut them into smaller pieces. Your eco-friendly confetti is ready for you.
24. Baskets and Lots of Baskets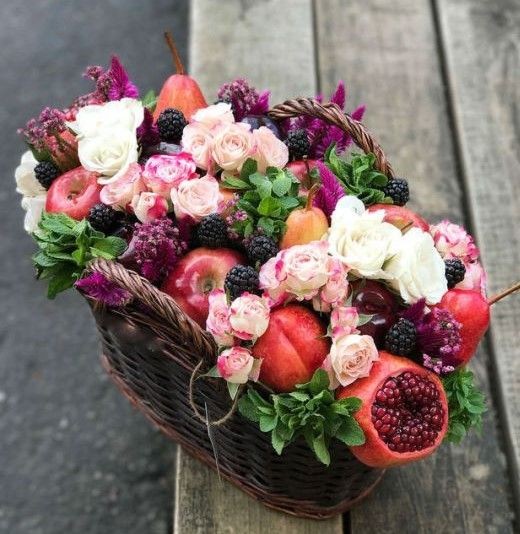 Medium-sized straw baskets really look good, especially with all the eatables stocked in them. Chocolates, cookies, toffees, and fruits can all be put in different baskets and let the guests have a good time.
25. Dessert Stand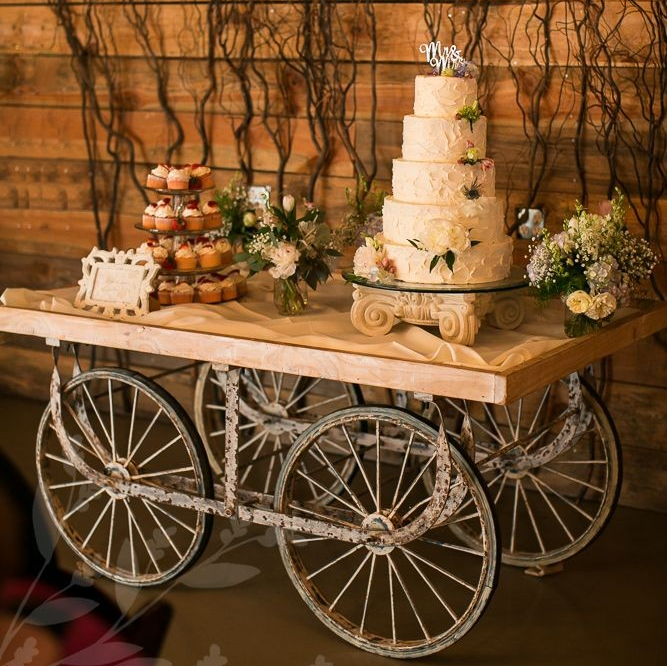 A beautiful and gorgeous dessert stand will complete the whole look of a rustic wedding. Get a rustic-themed table and start placing the puddings and pastries on it. A little bit of floral decoration around them is never too much and always a delicacy to the eyes.
Conclusion: Rustic Wedding, a Budget-Friendly Trend
Rustic weddings are dreamy with the correct set of decoration items. If you are creative and have good craftsmanship, you may not need to buy every decor item, thus making it a very budget-friendly kind of wedding.
DIYs can rescue you big time. Even with so much minimalism, a rustic wedding looks the most memorable and remarkable. This is the type of wedding where you won't need all the costly stuff for decoration. Recycled and reusable items are more than enough to make the wedding look astonishingly awesome.
Get yourself a good wedding planner and discuss how you want your wedding to be. Only the perfect guidance leads to a good outcome, and the outcome is a good rustic wedding.