8 Stunning Blue and White Design Ideas
Everyone wants to have their own space, and a garden is one of the best and tops the priority of every individual. Gardens are the places where we get much-needed mental peace, where we can commune with nature and find comfort in its beauty, whereas the color perfectly complements the essential aspects for creating the right atmosphere while planning or designing the garden.
Every color holds significance in one form or the other. However, a combination of Blue and White is becoming the top choice of everyone to design peaceful and opulent outdoor areas with their calming and meditative qualities. These two classic hues can turn an average outdoor space into an alluring retreat and tranquil in the world of landscape design. Blue and white colors merge beautifully to create a sense of calm, elegance, and sophistication in any garden.
Whether you have a large backyard garden or a little balcony garden, this blog will help you to explore creative design ideas in creating a stunning blue and white hideaway.
Some Blue and White Garden Design Ideas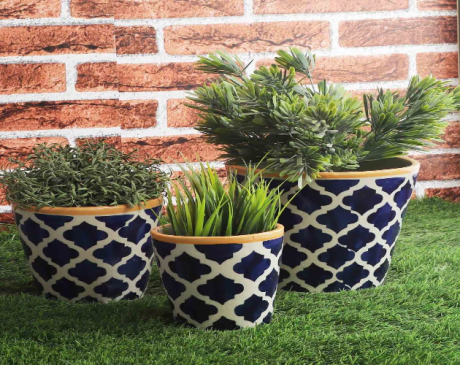 When it comes to designing your garden, one is very much concerned about the plant pots for their garden with an attractive and unique color combination. Ceramic Pots in Blue and White shades can make beautiful accents to your garden. They add a touch of Elegance and Sophistication to the outdoor area with their timeless beauty and adaptability.
Different garden types are complemented by the traditional and tranquil look created by the pairing of Blue and White colors. These pots double as gorgeous ornamental pieces in addition to being useful plant containers. Their unique pattern and motifs provide the overall garden composition with visual interest and texture.
You can make eye-catching displays with them because they come in various sizes and forms to accommodate various plant species and sizes. These pots encourage healthy plant growth since drainage holes guarantee optimum water circulation. Your garden will have a touch of luxury and become a visually appealing outdoor retreat if you use blue and white ceramic pots.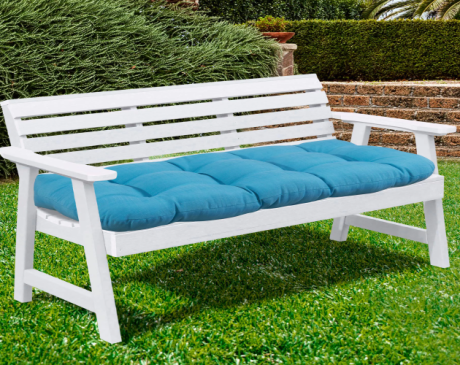 Any outdoor sitting area would look charming and elegant with the addition of blue and white garden benches and cushions. These benches and cushions not only make your outdoor space more comfortable but also more aesthetically pleasing. These will complement your garden with a calming and revitalizing color scheme of blue and white. These cushions are an easy way to transform a basic seating arrangement in your garden into a chic and welcoming hideaway. They will surely improve the aesthetics of your outdoor furniture.
Usually composed of weather-resistant materials, these benches, along with cushions, provide a long lifespan and durability. They are made to withstand external elements like sun, humidity, and mildew. These cushions offer comfort and flair for many seasons.
In addition to being cozy, these cushions also provide your outdoor sitting area with a bit of class and sophistication. They are a great option for increasing the overall aesthetic appeal of your garden due to their calm color palette, adaptability, and longevity. You may create a warm and fashionable outdoor hideaway that makes the best spot to rest, relax, and take in the beauty of nature by combining Blue and White Cushions.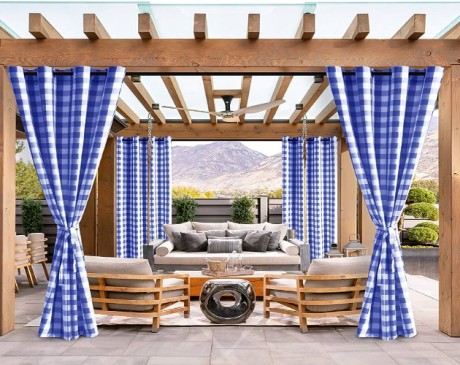 Your garden space will have a touch of elegance and charm that blue and white garden curtains add. These curtains not only serve a practical purpose but also enhance the aesthetics of your garden. They offer shade and UV protection, enabling you to use your outdoor seating area even on sweltering summer days. Blue and White, which are both light colors, reflect sunlight, making the area colder and more comfortable.
These curtains will turn your garden area into a private space by adding privacy and solitude. These curtains can be hung to make a private area where you can decompress and unwind in peace, whether you have a patio, balcony, or pergola. One can effortlessly customize these curtains to match their unique design choices. There are a lot of possibilities to suit your taste and the theme of your garden.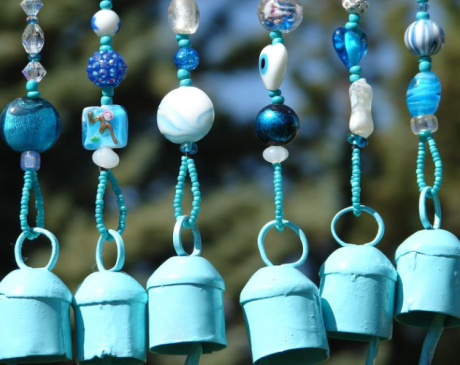 Sitting in the garden area, enjoying your evening tea with melodious, ear-soothing sounds coming out of visually appealing blue and White wind chimes. Do you also want to have the experience? Then we have something for you!
Wind Chimes in Blue and White are lovely complements to any garden, bringing serenity and enchantment to the garden area. These adorable accents not only improve the garden's aesthetic appeal but also produce a calming symphony as they sway in the light breeze.
The wind chime's tinkling sound gives the garden experience an audio component. The wind Chimes produce a soft sound as the wind moves through them and reminiscent of a serene symphony in nature. The light tinkling sounds can be immensely calming and therapeutic, reducing stress and fostering a sense of serenity.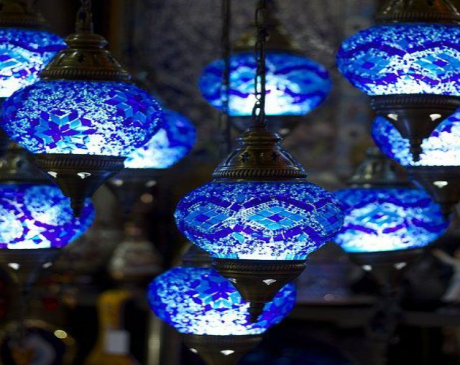 If you want to give an illuminating and glowing look to your garden, then these Blue and White Lanterns should be the first choice to go for. Every garden seems beautiful from the allure of a blue and white garden lantern, which brings beauty and illumination to the area. These lanterns add to the beauty of the garden with their sophisticated color scheme in addition to their usefulness as lighting fixtures.
This blue and white color scheme of the lanterns adds to the mood, fostering a calm and welcoming atmosphere. To give a magical, charming element to the garden, these lanterns are usually hung from a tree branch, set on a patio table, or used to line a footpath.
These beautiful blue and white colored lanterns give your garden an aesthetic appeal as well as functionality. They create a warm, soothing glow when lit from the inside, giving the surroundings a mystical feel. These Blue and White Lanterns try to evoke a sense of calmness and peace in the dark night when you are sitting in the garden and glaring at the moon.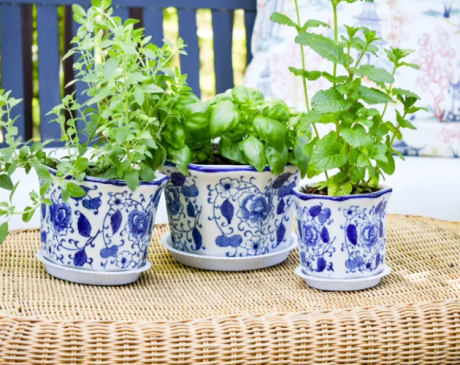 If you want to add a beautiful addition to your yards, these beautiful blue and white planters can also be on your wishlist. With their unique colour combination ( Blue and White ), they bring a touch of sophistication, calmness, and elegance to the entire garden design. These planters serve as decorative features that improve the garden's aesthetic appeal, in addition to acting as functional containers for plants.
There are countless design options for gardens with blue and white planters because they are available in different sizes, forms, shapes, and materials. Popular options include ceramic, porcelain, or painted terracotta since they are long-lasting and have a traditional look. These planter's shiny surface and smooth texture add to their visual appeal. They may easily blend in with a variety of garden themes, including Mediterranean, Coastal, and Contemporary. These planters make unified and eye-catching arrangements that improve the garden's overall look, whether they are utilized individually or in groups.
These planters are used as containers for a variety of plants, including vibrant blooms and luxuriant green foliage. The bright hues of the plants stand out and provide a remarkable visual contrast against the background of blue and white. They showcase the botanicals' inherent beauty in an elegant and alluring way by serving as a lovely framing for it.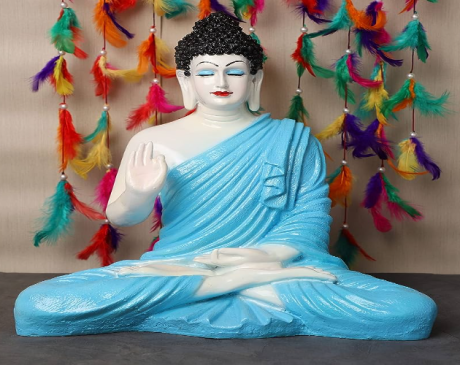 Outside Sculptures or statues in blue and white are eye-catching additions to gardens that give the outdoor space a sense of beauty, grace, and aesthetic charm. These statues add to the overall aesthetic appeal and mood of the garden in addition to acting as focal points.
These statutes can be made of a variety of materials, including porcelain, stone, and resin. The statues' intricate and minute features are emphasized by the blue and white color scheme, which also gives them depth and perspective. These statues offer a variety of possibilities to fit various garden styles and themes, from graceful figures to animals.
These can be placed in key areas of the garden to serve as focal points and inspire awe. They add to the overall landscape design, adding a touch of artistic expression and catching the imagination, whether they are set on pedestals, tucked aimed plants, or positioned close to water features.
These outdoor statues also depict mythological or cultural figures, which gives the garden an additional layer of symbolism and storytelling. They can act as a reminder of Legendary beings, historical events, or ancient civilizations, inspiring viewers to consider the larger human experience and relationship with the environment.
Can anyone imagine any garden area without birds? Next on the list, we have something for these birds in a blue and white color scheme for your gardens which will not only give birds a safe and cozy place to nest but will also improve the garden's aesthetic appeal. Blue and White Birdhouses and Blue and White Bird Baths. These birdhouses' and bird baths' blue and white color palette, which echoes the hues of the sky and clouds, melds seamlessly with the surrounding landscape.
As a result, birds are drawn to the birdhouses and are encouraged to settle there. In dry and hot seasons, Bird baths are vital water sources for birds. The bird bath's blue and white color scheme imitates natural bodies of water, drawing birds and luring them to drink and take a bath. Your garden is made joyful and lively by the sound of splashing water and the sight of birds playing in the bath.
Conclusion
In this blog, we tried to provide a large of ideas for Blue and White Garden, with the help of which you can transform your simple garden into a more aesthetic and appealing one. By opting for the above-mentioned ideas, you can design your garden that is pleasing to the eyes as well as a haven for both you and the environment. These ideas will not only turn your garden into a visually attractive one but also create a setting where you can rest, relax, and can connect with nature.
Let the calming blue hues and crisp white accents carry you to a peaceful setting and motivate you to experience moments of peace and tranquility amidst the wonders of nature.
So go ahead and transform your garden into a serene retreat by bringing the charm of blue and white outside and let us know in the comments which idea you like the most.