20 Creative Pergola Ideas for Your Dream Backyard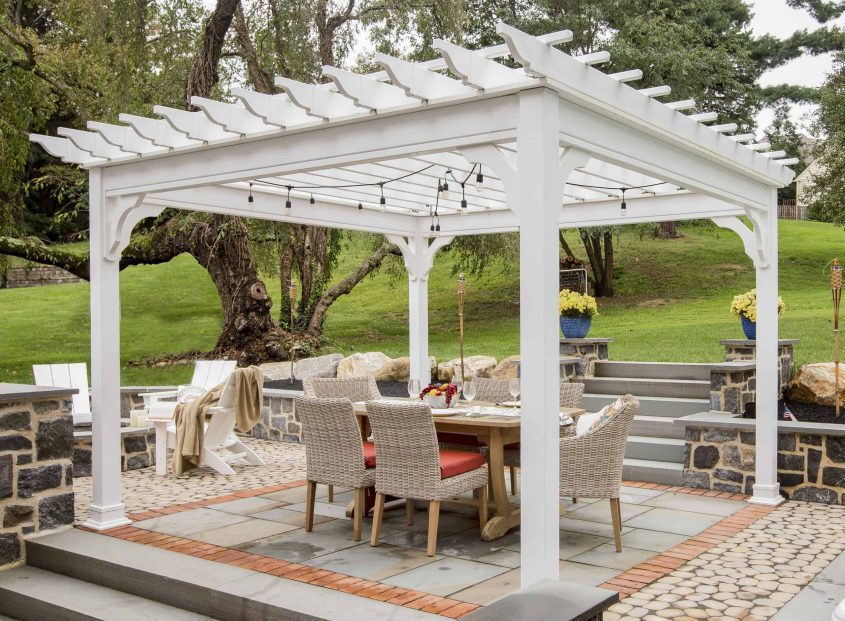 Are you looking to transform your outdoor space into a stunning and functional oasis? Look no further than pergolas! These elegant structures not only provide shade but also add beauty and charm to any garden or backyard.
Whether you prefer a traditional wooden design, a sleek and modern style, or something with a touch of exotic flair, there are endless options to choose from.
In this article, we will explore the best pergola designs ideas that will inspire you to create a perfect spot for relaxation, entertaining guests, or enjoying outdoor meals.Every pergola design has its own distinct charm and personality.
So, enhance the aesthetics of your outdoor spaces, create a cozy seating area, and add architectural interest today! These modern pergola ideas will surely help you transform your dreams into reality. Let's dive in and explore and possibilities of the magnificent outdoor structures.
Stunning Pergola Ideas for Outdoor Spaces
When it comes to enchanting your outdoor space, few structures can match the elegance and versatility of a pergola. Now that you are considering adding a pergola to your outdoor area, here are the 20 best designs to inspire you.
1. Traditional Wood Pergola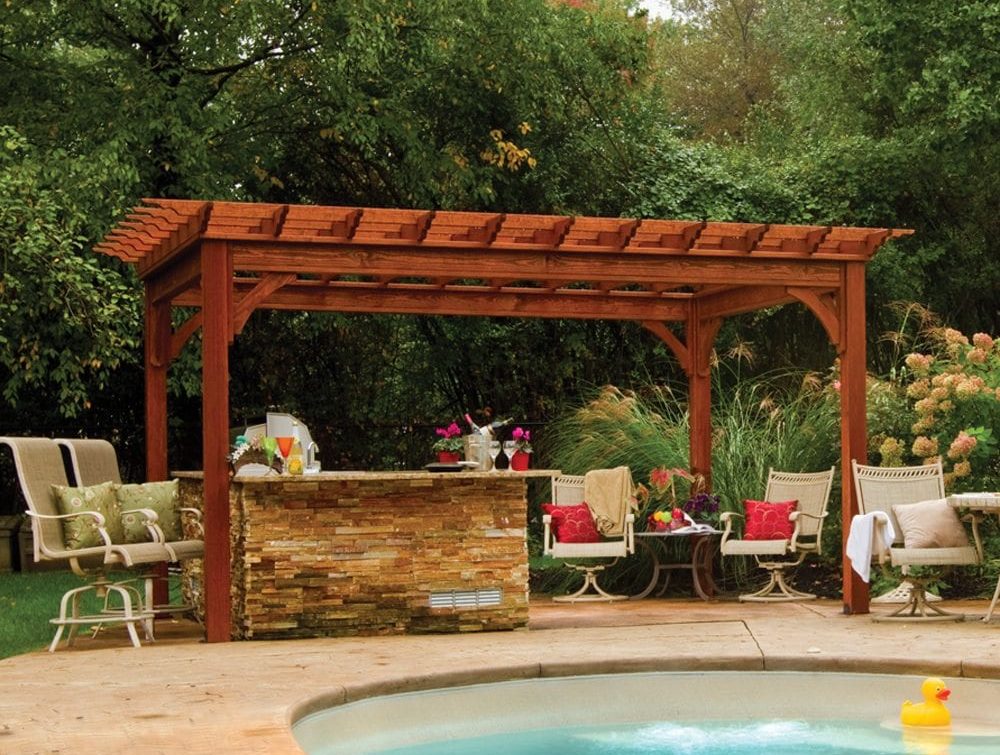 A traditional wood pergola is a timeless and popular choice that complements various architectural styles. Crafted from sturdy wooden materials like cedar or redwood, this design features a classic combination of vertical posts and horizontal beams, creating an open and airy space. The warm tones and natural beauty of wood lend a rustic and organic feel to the pergola, making it a perfect addition to any garden or backyard.
You can leave the wood untreated for a weathered look or apply stain and paint to match your desired aesthetic. Enhance the beauty of the traditional wood pergola with climbing vines, such as wisteria or roses, to create a truly enchanting outdoor space.
2. Modern Minimalist Pergola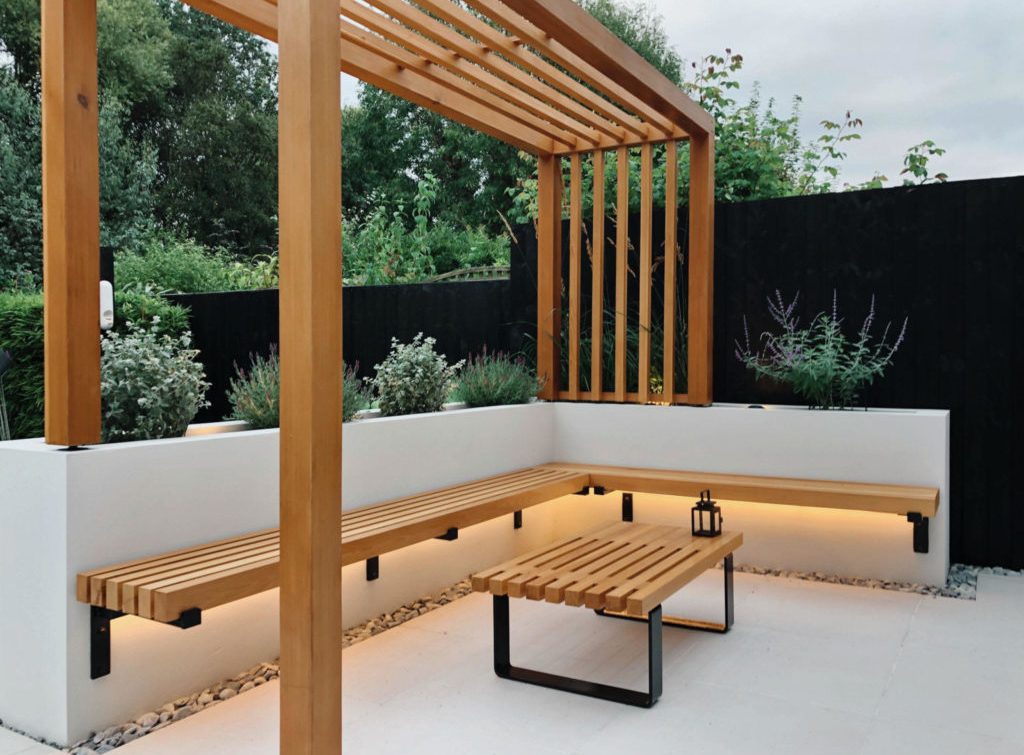 For those who prefer sleek and contemporary designs, a modern minimalist pergola is the perfect choice! This design emphasizes clean lines, geometric shapes, and simplicity. Typically constructed with metal or aluminum, this minimalist modern pergola idea offers a minimalist aesthetic that seamlessly integrates with modern architectural styles.
You can opt for a monochromatic color scheme or experiment with bold colors to make a statement. To further enhance the modern look, incorporate minimalist outdoor furniture and complement the pergola with lush greenery and minimalist landscaping. The result is a sophisticated and visually striking outdoor space that exudes elegance and style.
3. Mediterranean Style Pergola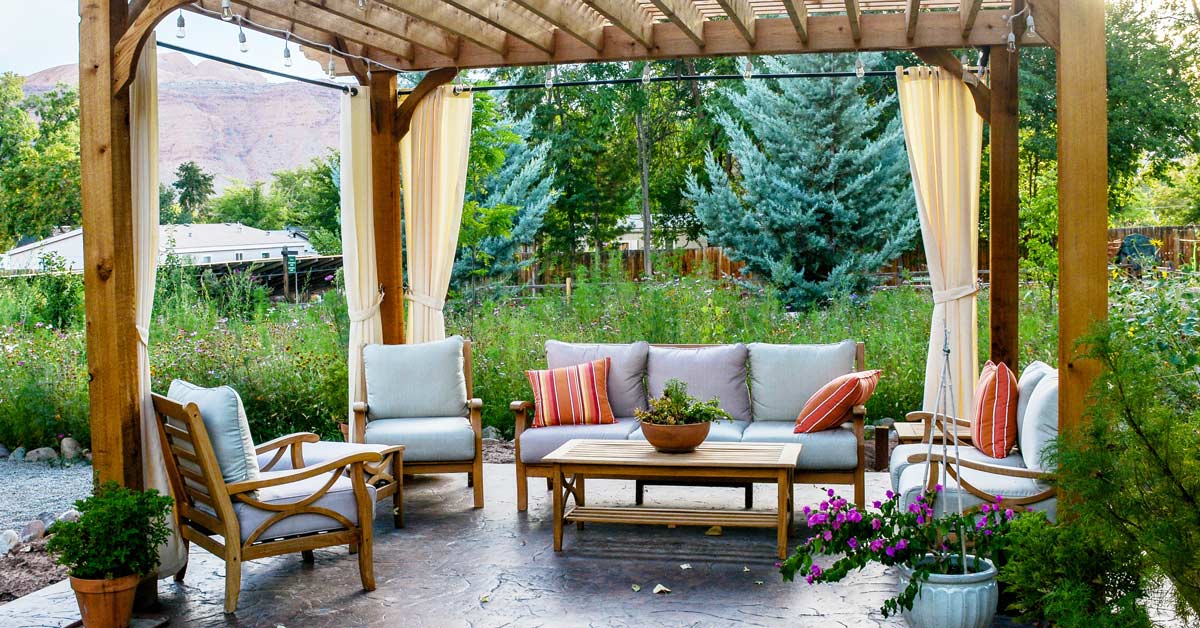 A Mediterranean-style pergola is an excellent choice if you are looking to bring a touch of Mediterranean to your outdoor space. This design features ornate details, curved arches, and columns and is inspired by the charm and elegance of Mediterranean architecture. It is constructed with stone or stucco materials and evokes a sense of luxury and relaxation.
Add Mediterranean-inspired elements such as clay tiles, mosaic patterns, and wrought iron accents to enhance the overall aesthetic. Complete the look with comfortable outdoor seating and vibrant Mediterranean plants like lavender and bougainvillea. This style of pergola creates a tranquil and inviting atmosphere where you can unwind and indulge in the beauty of your surroundings.
4. Cantilevered Pergola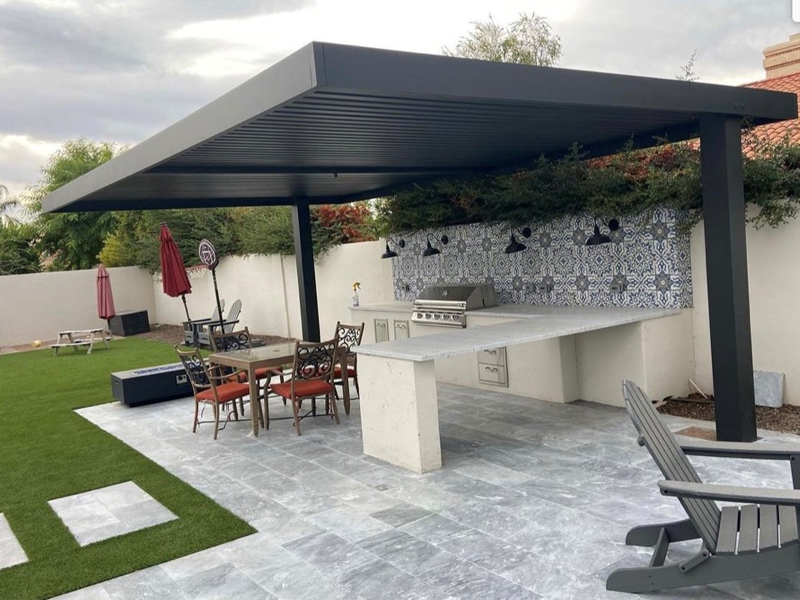 Consider a cantilevered pergola for a modern and eye-catching design. This style features an innovative structure that extends outward from a wall or post without visible supports, creating a floating effect. The cantilevered design not only provides shade but also adds architectural interest to your outdoor space. This pergola offers a sleek and contemporary look as it is constructed with materials like steel or reinforced concrete.
It is an ideal choice for small outdoor spaces or areas where you want to maximize floor space without sacrificing style. So, enhance the modern appeal of the cantilevered pergola with minimalist furniture, clean lines, and neutral color schemes. Indeed, you shall have a functional and striking outdoor area that stands out from the crowd!
5. Privacy Screen Pergolas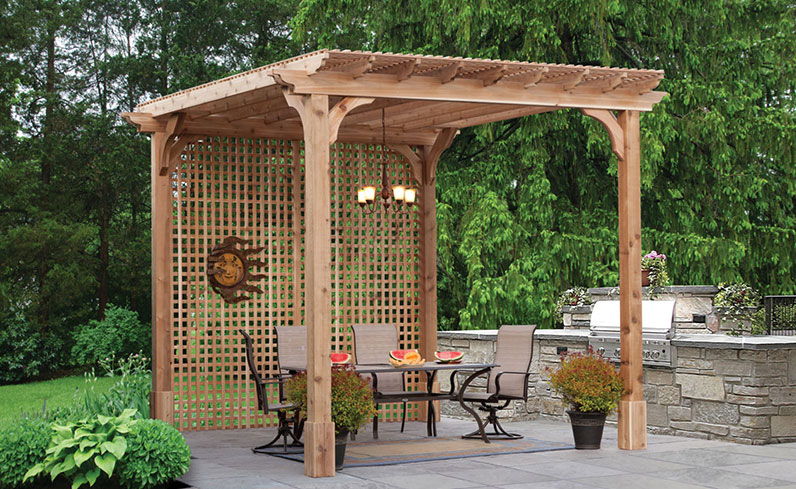 Privacy screen pergolas are designed to provide seclusion and privacy in outdoor spaces. These pergolas incorporate elements such as lattices, slats, or screens on one or more sides, creating a barrier that shields your outdoors from prying eyes. The privacy screen can be made from materials like wood, metal, or fabric, allowing you to customize the level of privacy and aesthetics.
Whether you are looking to create a cozy retreat in a busy neighborhood or seeking solitude in a shared outdoor space, a privacy screen pergola offers a stylish and practical solution for maintaining privacy while enjoying the outdoors.
6. Roofed Pergola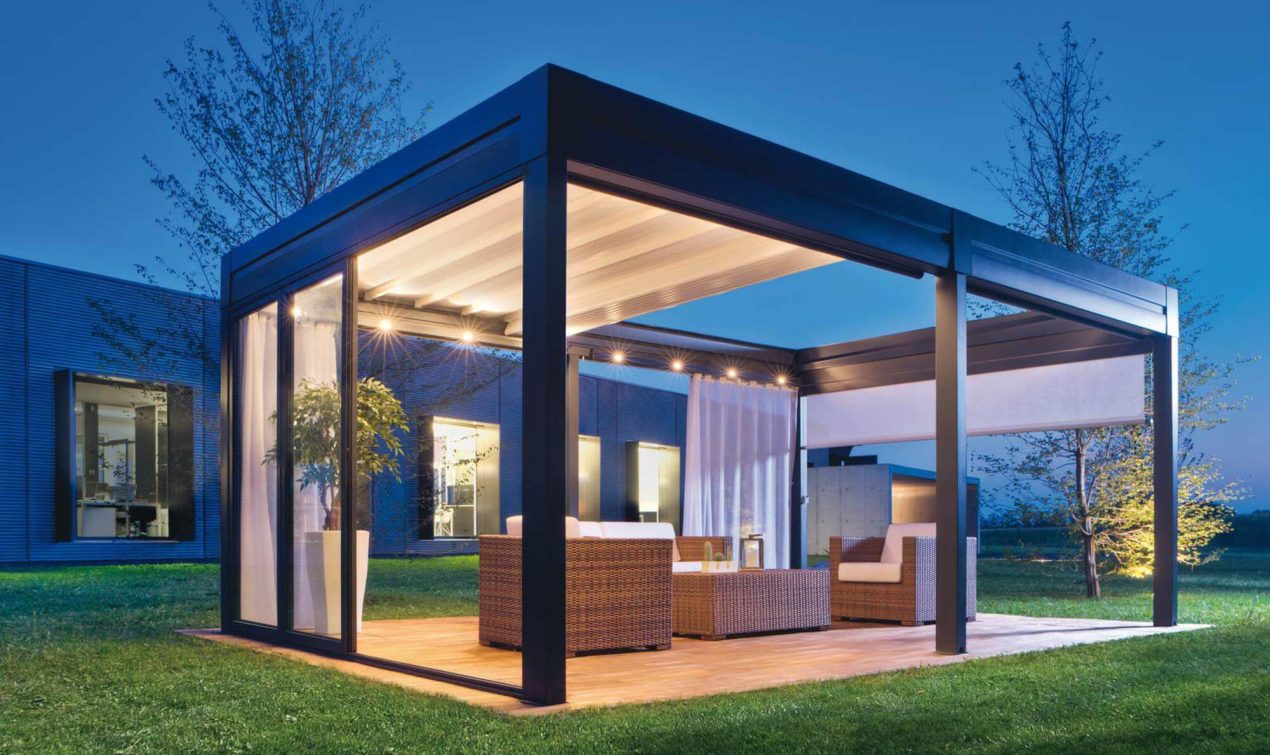 If you desire additional protection from sunlight, snow, or rain, a roofed pergola is the best! By adding a roof to your pergola, you create a versatile outdoor space that can be enjoyed in any weather. The roof provides shade during hot summer days and keeps you dry during light rain showers. You can choose from various roofing materials, such as polycarbonate panels, thatch, or even fabric canopies.
Consider installing skylights or openings in the roof to let natural light in. With a roofed pergola, you can create an outdoor living room or dining area that can be enjoyed year-round, extending the functionality of your outdoor space.
7. Living Green Wall Pergola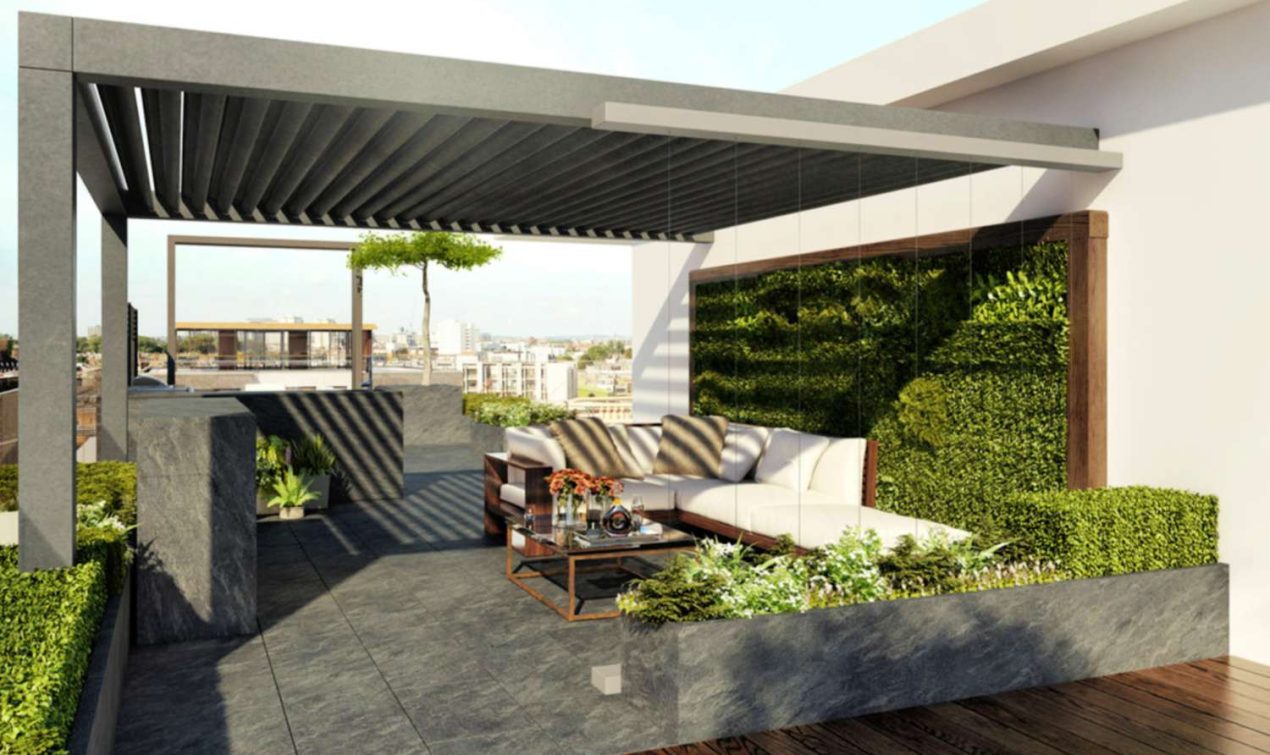 Begin by adding a green wall in your pergola to enhance the beauty of nature. This design idea brings a vibrant and lush element to your outdoor space while providing shade and privacy. Choose climbing plants like bougainvillea, jasmine, or fake ivy that will cover the sides and roof of the pergola, creating a stunning and aromatic green canopy.
The living green wall pergola not only adds a touch of nature but also improves air quality and creates a tranquil atmosphere. Pair it with comfortable outdoor seating and soft lighting to create a cozy and inviting outdoor oasis that seamlessly blends with the surrounding environment.
8. Multi-Functional Pergola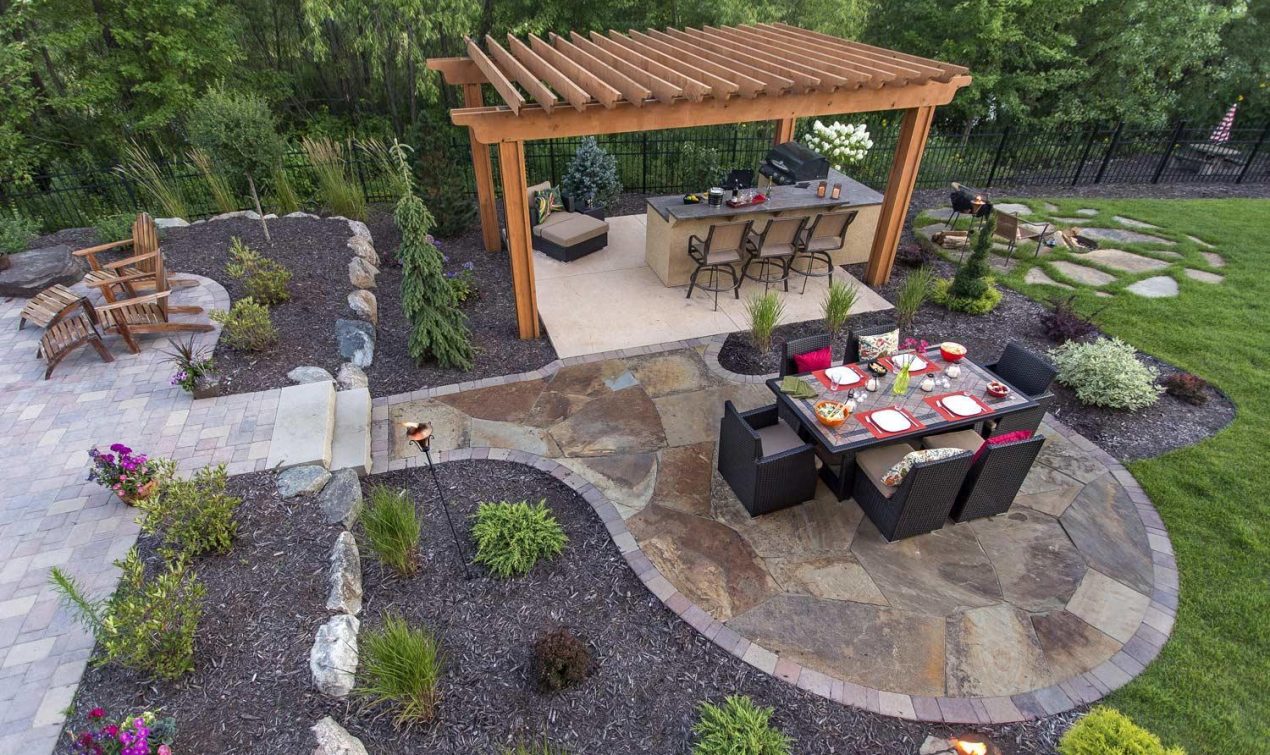 Make the most of your outdoor space by infusing a multi-functional pergola design. This modern pergola idea combines the pergola structure with additional features, such as an outdoor kitchen, bar, or seating area. Imagine a pergola with a built-in grill, countertop, and dining space, allowing you to entertain guests while enjoying the beauty of your outdoor surroundings.
You can also integrate cozy seating areas, fire pits, or even a hot tub for a luxurious outdoor retreat. A multi-functional pergola not only enhances the aesthetics of your space but also maximizes its functionality, creating an all-in-one entertainment hub.
9. Tropical Pergola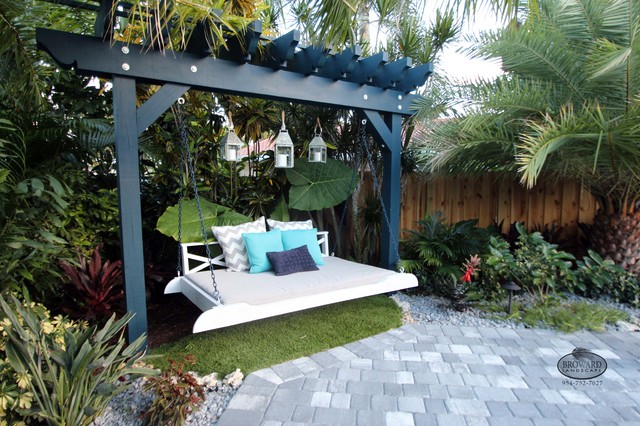 A tropical pergola brings the essence of a tropical paradise to your outdoor space. You can include components such as lush greenery, vibrant flowers, and natural materials to create a tropical oasis. Opt for materials like bamboo or rattan for a natural and relaxed look.
Enhance the tropical atmosphere with colorful cushions, palm leaf patterns, and tropical-themed decor. Consider adding hanging plants, climbing vines, or even a thatched roof for an authentic touch. A tropical pergola creates a vacation-like ambiance, allowing you to escape into a tropical paradise right in your backyard.
10. Floating Pergola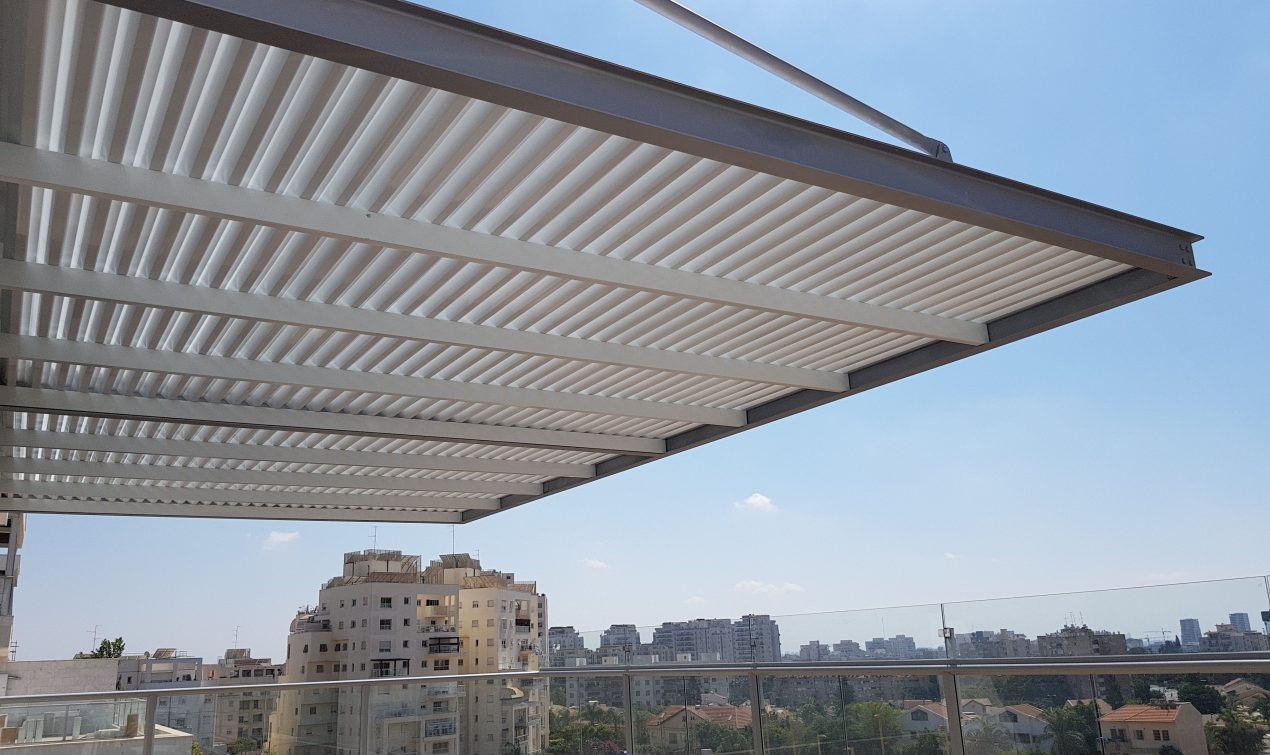 Create a sense of magic and whimsy with a floating pergola design. This design gives the illusion of a pergola suspended in mid-air, adding an element of intrigue and elegance to your outdoor space. Achieve the floating effect by using thin cables, transparent materials like glass or acrylic, or even optical illusions through clever design.
The floating pergola design is ideal for modern and contemporary settings, adding a touch of surrealism and architectural artistry.Using subtle lighting or adding a water feature to your pergola can create an ethereal ambiance.
11. Solar-Powered Pergola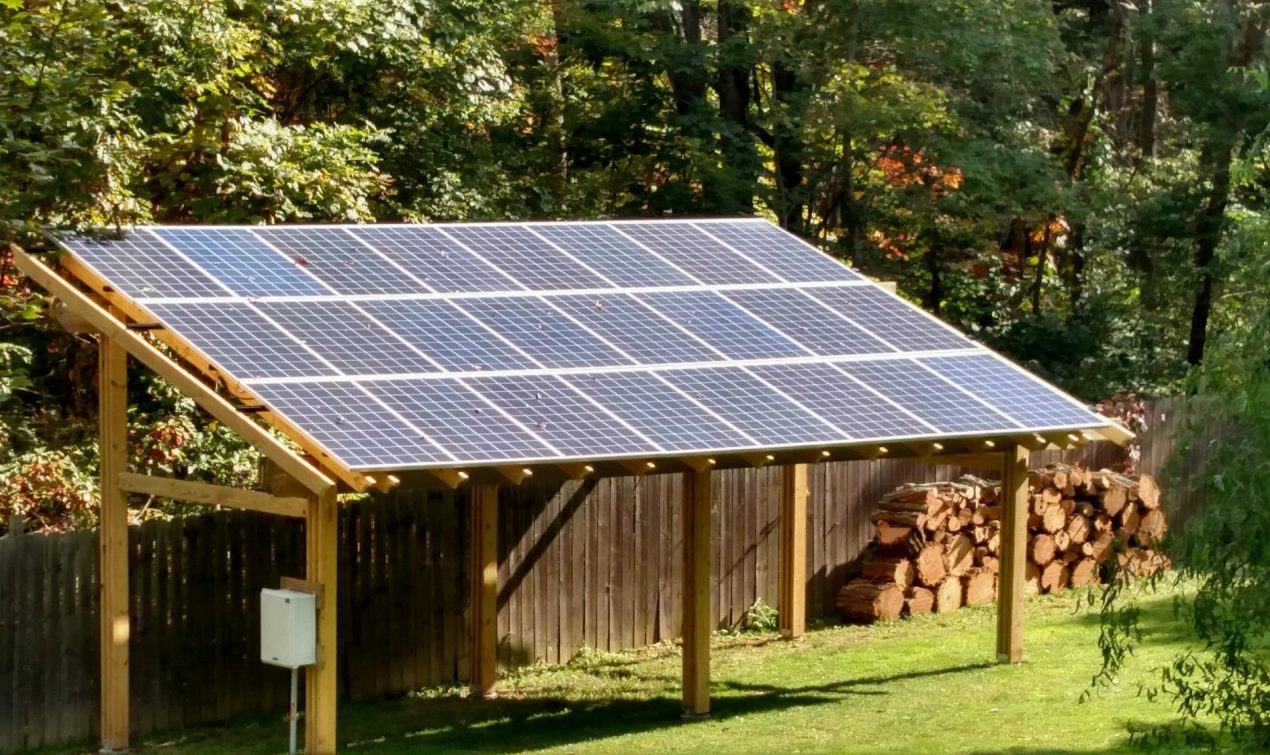 Combine sustainability with style by opting for a solar-powered pergola design, as this idea integrates solar panels into the structure, providing both shade and renewable energy. Solar panels can be smoothly integrated into the roof or used as shade components in the pergola. Not only will you enjoy the benefits of the pergola, but you will also reduce your carbon footprint and take a step towards eco-friendly living.
Use solar energy to power outdoor lighting, speakers, or even electrical outlets for added convenience. The solar-powered pergola is a perfect choice for those who prioritize sustainability without compromising on design and functionality.
12. Water Feature Pergola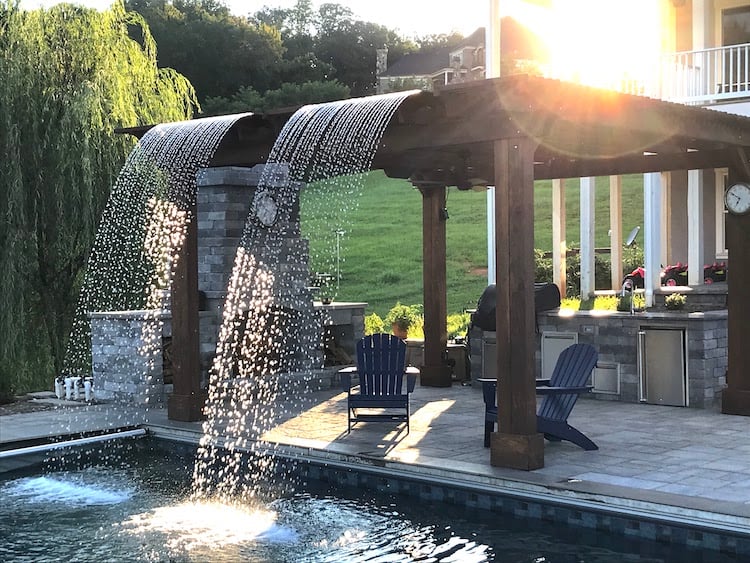 A water-feature pergola combines the soothing sound and mesmerizing sight of water with the elegance of a pergola structure. This modern pergola idea incorporates elements such as a fountain, waterfall, or pond with or near the pergola. All of this creates a tranquil and serene atmosphere in your outdoor space.
The outdoor water feature adds visual interest and provides a sense of relaxation and calmness.You can add a cascading waterfall feature or a gently bubbling fountain. Both of these will add a touch of sophistication and natural beauty to your outdoor area.
13. Retractable Roof Pergola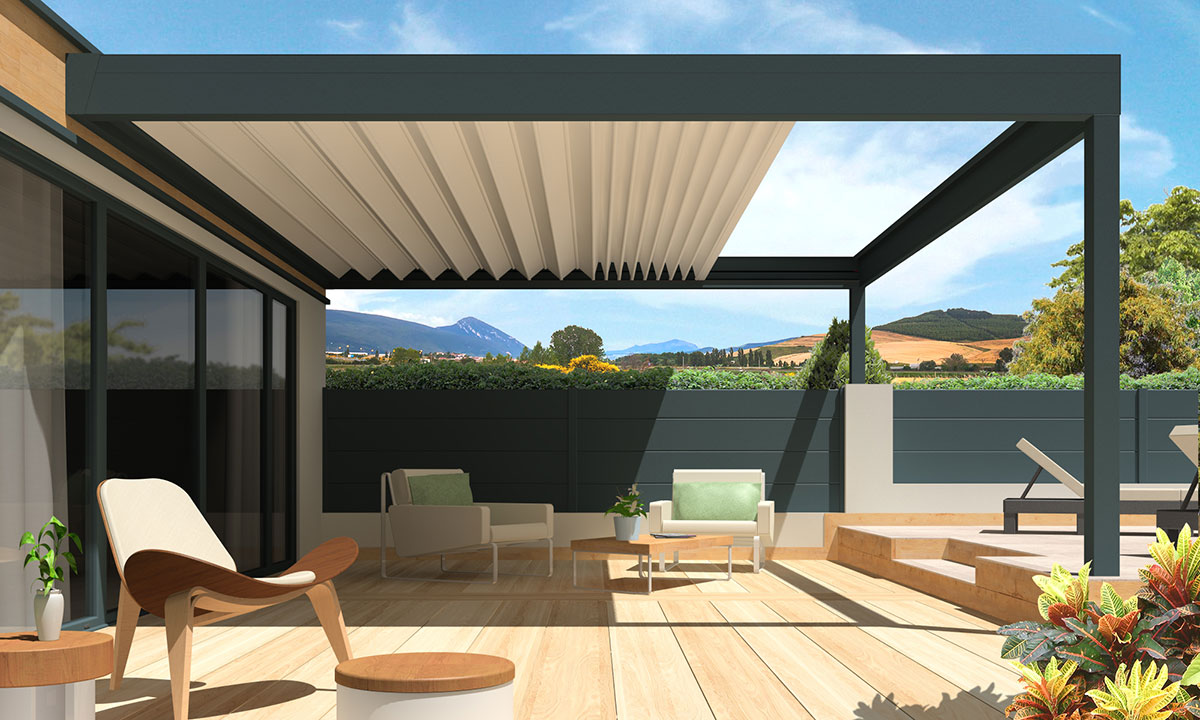 Enjoy the flexibility of an adjustable outdoor space with a retractable roof pergola. This design allows you to control the amount of sunlight or shade you desire by providing the perfect balance throughout the day.With the touch of a button or a manual crank, the roof can retract or extend. This will give you the option to take in the sunshine or seek shelter from the rain.
The retractable roof can be made of fabric, polycarbonate panels, or even a combination of both. This versatile pergola design is ideal for those who want to adapt their outdoor space to changing weather conditions and personal preferences.
14. Japanese-inspired Pergola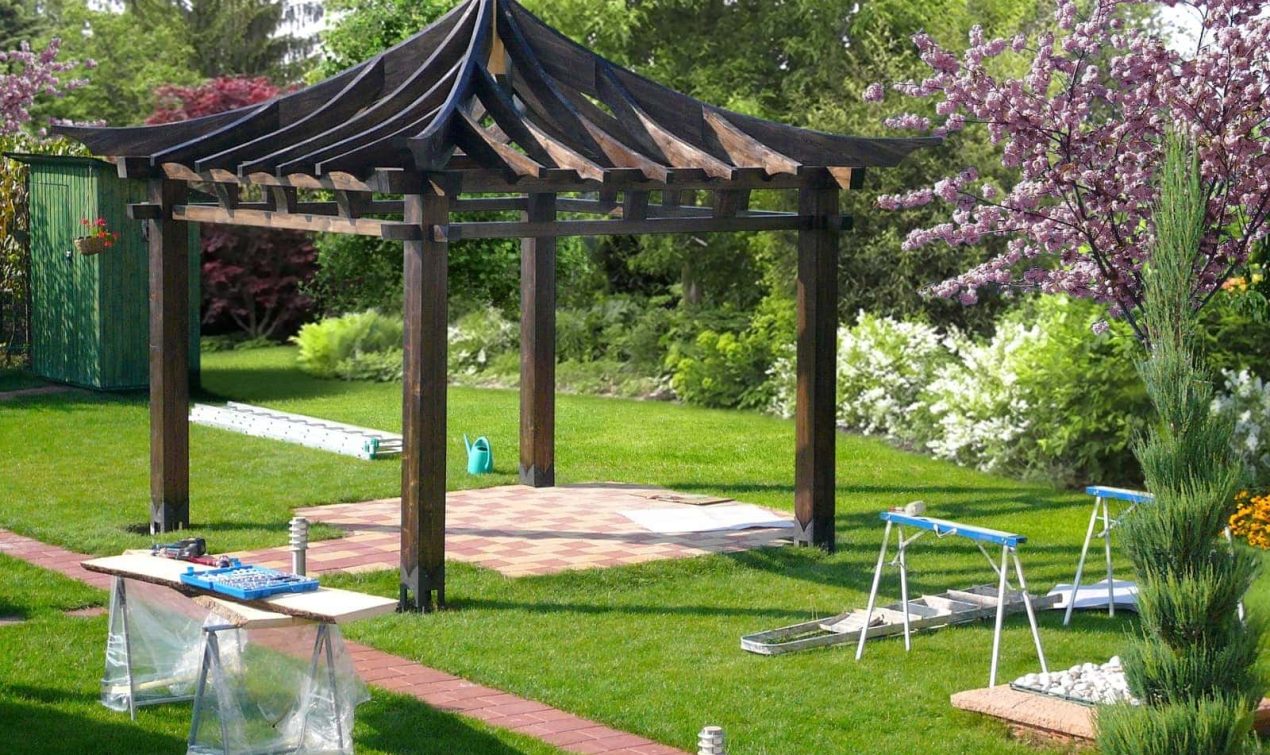 Begin by using Japanese design's serene and harmonious aesthetics if you wish to make a Japanese-inspired pergola. This modern pergola idea embraces simplicity, natural elements, and a strong connection with nature. Incorporate clean lines, minimalistic structures, and traditional materials like bamboo, wood, and stone.
Add sliding shoji screens, tatami mats, or a Zen garden to enhance the authenticity and create a tranquil atmosphere. The Japanese-inspired pergola provides a serene and peaceful retreat where you can find balance and reconnect with nature.
15. Lighting Pergola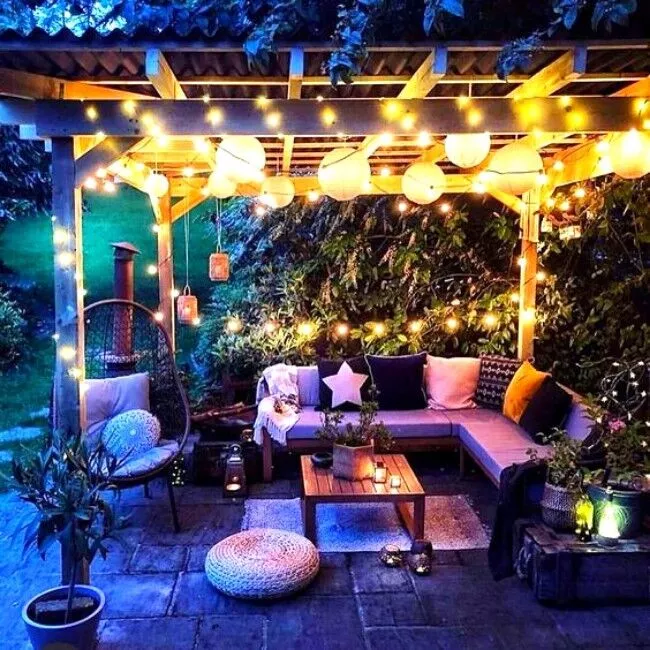 Lighting is a crucial element in pergola design, creating ambiance and extending usability into the evening hours. Incorporating appropriate lighting fixtures can transform a pergola into a magical and inviting space. Options include string lights, lanterns,recessed lighting, or even chandeliers, depending on the desired atmosphere.
Use warm, soft lighting to create a cozy and intimate feel, or go for brighter, functional lighting for a more practical purpose. Consider incorporating dimmers or smart lighting systems for easy control. With the right lighting, a pergola becomes a captivating outdoor retreat, perfect for entertaining or relaxing under the stars.
16. Industrial Chic Pergola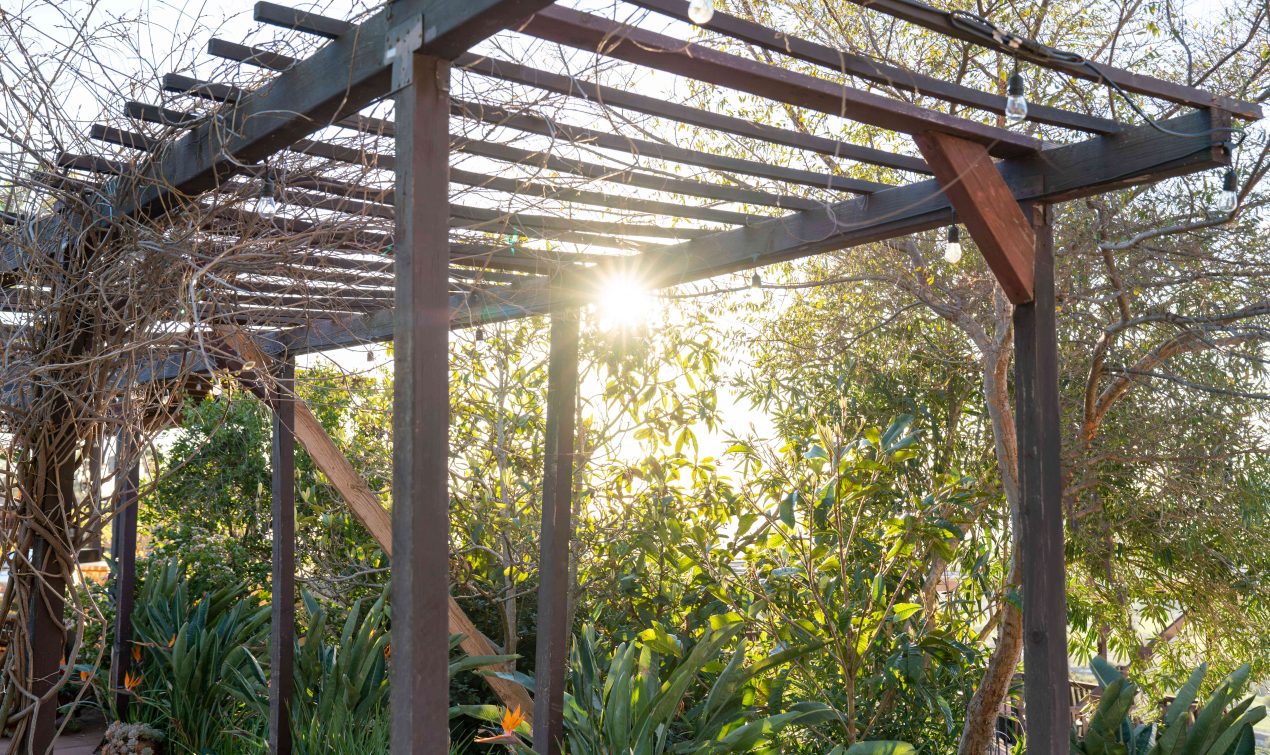 Embrace the trendy and edgy industrial design look with this modern pergola idea. It combines raw and rugged materials like metal, concrete, and reclaimed wood to create a unique and contemporary outdoor space.Exposed beams, metal accents, and clean lines characterize this design, giving your pergola an urban and stylish vibe.
Pair it with minimalist furniture, Edison bulb lighting, and touches of greenery to soften the industrial aesthetic. The chic industrial pergola is perfect for those who appreciate the blend of urban and natural elements and seek a modern, eclectic outdoor ambiance.
17. Colorful Pergola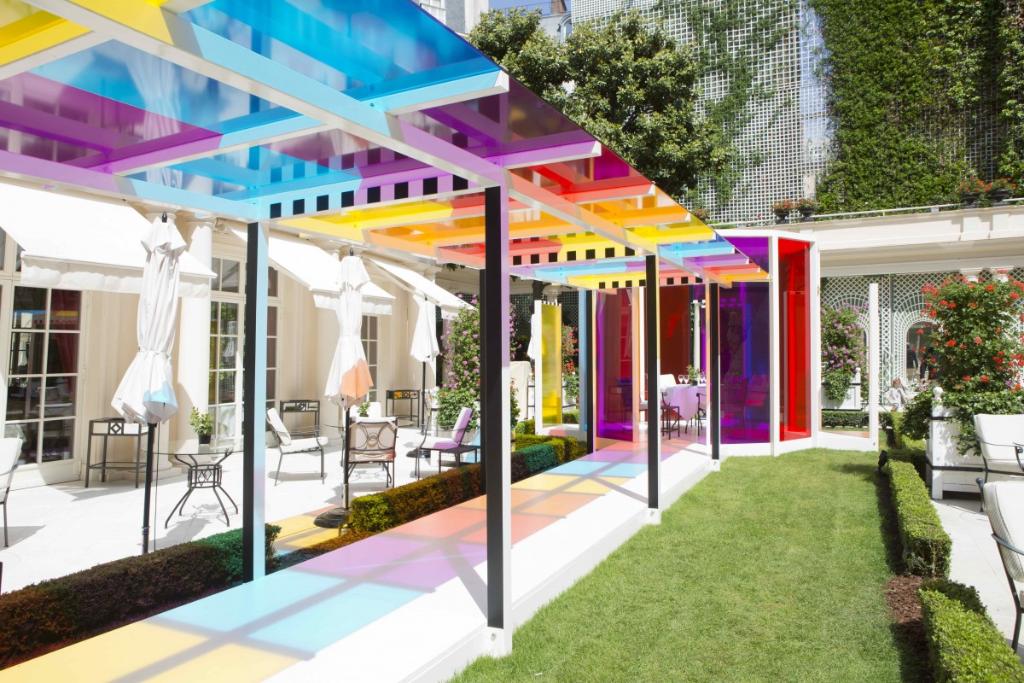 Move away from traditional neutrals and experiment with bold and vibrant hues that reflect your personal style by injecting a burst of color and personality into your outdoor space.This can be done by implementing the colorful pergola idea. No matter which color you plan to experiment with – the colorful pergola will always become a captivating focal point in your garden or backyard.
Consider using weather-resistant paints, fabric canopies, or even colorful climbing plants to achieve the desired effect. You can enhance the atmosphere by including colorful outdoor furniture,pillows, and accessories. The colorful pergola design adds creativity, energy, and a sense of playfulness to your outdoor space.
18. Hammock Pergola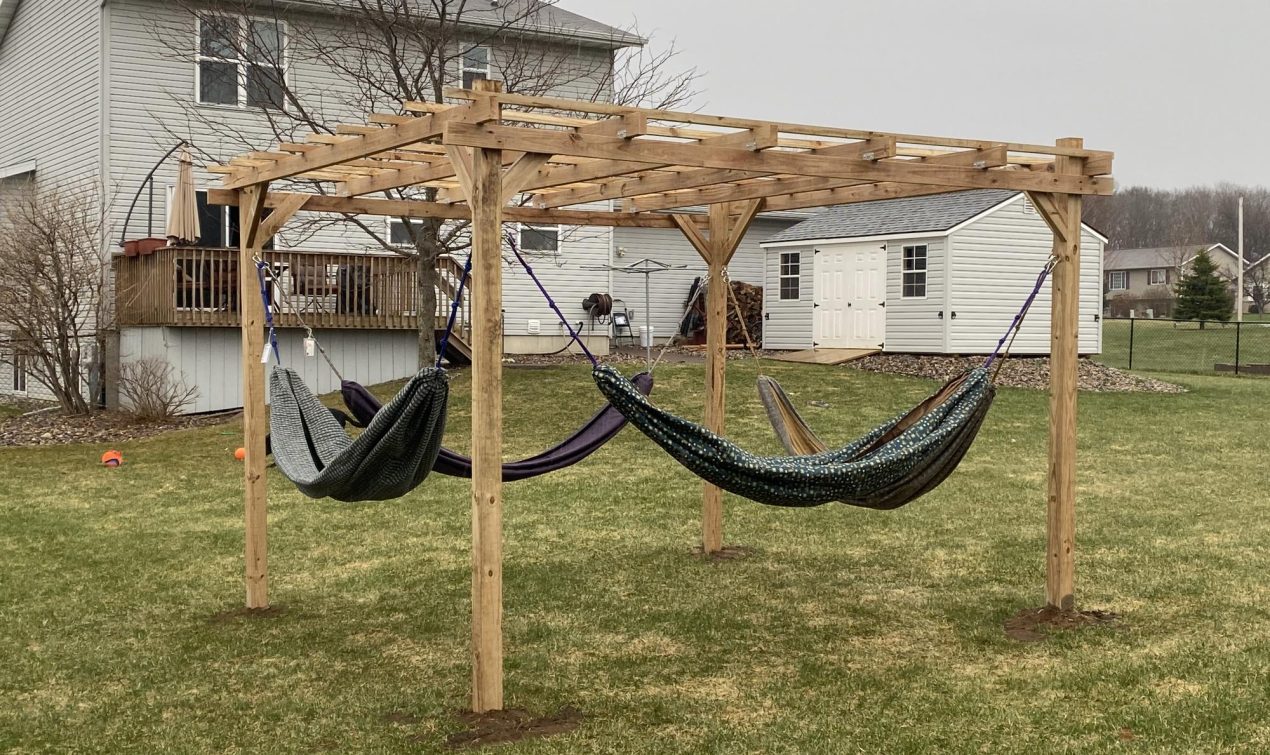 Combine relaxation and functionality with a hammock pergola design featuring an innovative idea that integrates hammocks into the structure of the pergola. It provides a unique and comfortable seating option. Install hammock hooks or posts along the sides of the pergola, allowing you to suspend hammocks at varying heights and angles.
This design is perfect for those who want to create a cozy and inviting space for lounging, reading, or taking a leisurely nap. Pair the hammock pergola with soft cushions, blankets, and hanging lights to create a serene and inviting oasis.
19. Freestanding Sculptural Pergola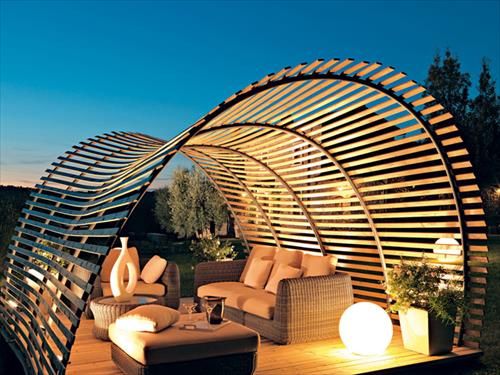 Make a statement with a freestanding sculptural pergola that doubles as a work of art.This design idea is unique than other pergolas as it integrates more artistic aspects. Think of curvaceous forms, unique geometrics, or even asymmetrical structures. Experiment with unconventional materials like sculptural metalwork, lightweight concrete, or even composite materials.
The freestanding sculptural pergola becomes a conversation piece and a visual focal point in your outdoor area. Pair it with minimalist landscaping and let the sculptural design take center stage. This design is perfect for those who want to make a bold and artistic statement while elevating the aesthetics of their outdoor space.
20. Rustic Pergola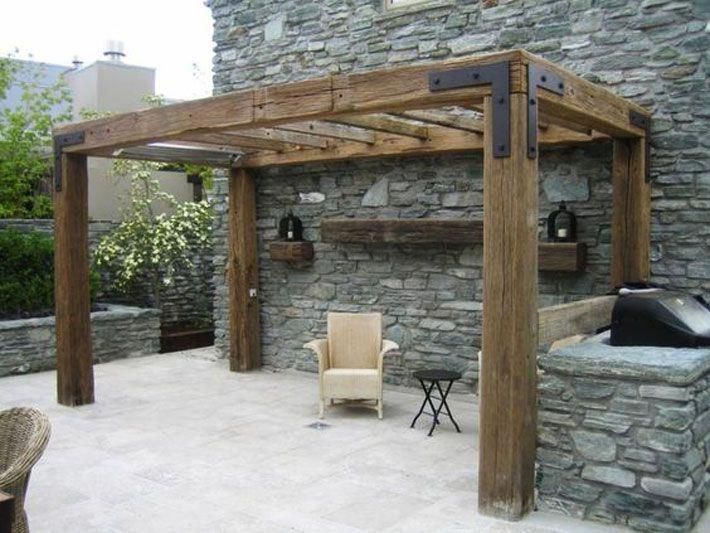 A rustic pergola adds a charming and nostalgic touch to your outdoor space. This design embraces the beauty of natural materials like reclaimed wood, rough-hewn beams, and weathered finishes. With its imperfect and organic appearance, a rustic pergola exudes warmth and authenticity.
You can include elements like stone accents, vintage-inspired light fixtures, and cozy outdoor furniture with earthy tones. This will enhance the rustic appeal altogether! In short,a rustic pergola creates a cozy and inviting atmosphere, which allows everyone to relax and connect with nat
Conclusion
These 20 pergola ideas showcase the range of possibilities to enhance your outdoor space.No matter which style you pick, there is a pergola style to suit every taste and architectural style.
By carefully selecting materials, incorporating complementary elements, and personalizing the space with furniture and landscaping, you can create a stunning outdoor oasis that shall become the heart of your home. So, get inspired and start designing the pergola of your dreams today!
Frequently Asked Questions
What is a Pergola?
A pergola is an outdoor structure consisting of vertical posts supporting crossbeams and an open roof. It typically provides partial shade and serves as a decorative element in gardens, patios, or other outdoor spaces.
What is the Purpose of a Pergola?
Pergolas serve multiple purposes. They provide shade and comfortable outdoor space for relaxation, dining, or entertaining. Pergolas can also enhance the aesthetics of a garden or patio, serve as a support for climbing plants, or create a designated area for various activities.
Can a Pergola Be Attached to a House?
Yes, a pergola can be attached to a house or freestanding, depending on personal preference and the layout of the outdoor space. When attaching a pergola to a house, it is essential to ensure proper support and consider factors such as water drainage and potential impact on the existing structure.
What Accessories Can I Add to My Pergola?
You can customize your pergola by adding various accessories to enhance its appeal. Standard accessories include canopies or shades, outdoor curtains, string lights, fans, heaters, and other decorative elements.