14 Unique and Inspiring baby Girl Nursery Designs You'll Love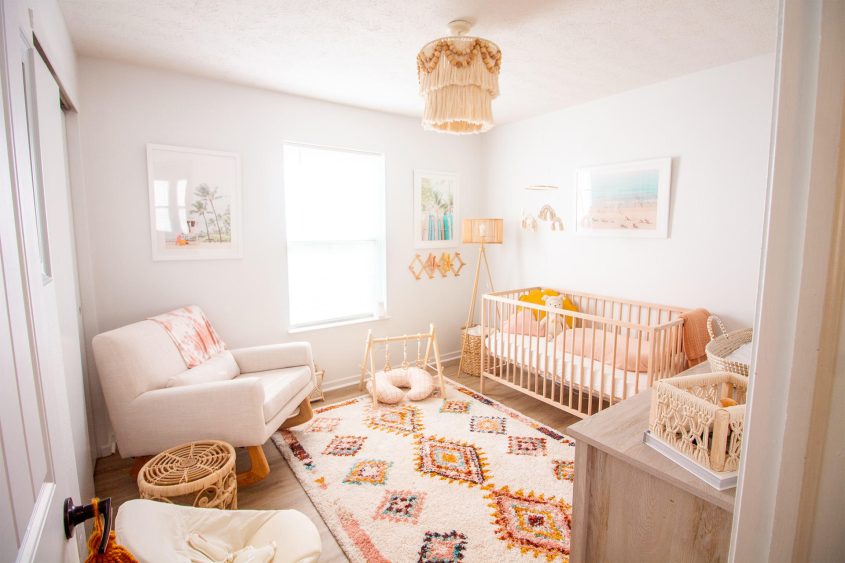 Designing a nursery room for a baby girl can be thrilling yet frightening, especially if you are a new parent. As a parent, you will be in the continual loop of the choice of themes, the correct color coordination, and the functionality of a baby girl nursery for your baby. No matter how doubtful you are about it, it is an exciting endeavor.
Your worries end here because this blog contains all awesome ideas for nursery decoration ideas. Different themes and specific color palettes will help you in building a perfect space for your baby girl. The blog will cover the functionality and budget-friendliness of the baby girl nursery apart from adding aesthetics to the nursery.
Here are some elite ways to build a flawless space for your girl. Use details like a complementing table, couch, or stuffed toys for an upgraded appearance of your nursery space.
1. Gallery Walls are Never Boring
Gallery walls are dedicated to the living room or the dining area, but here is an innovative way to accessorize a baby girl's nursery. Use gallery walls for captured moments of the babies growing, or you can go for scraps from their favorite storybooks or characters. Waking up to the gallery wall with the baby's favorites will cheer your baby.
You can choose the color concerning the theme you want to introduce to the nursery area for your baby girl. A touch of pink goes well, but don't forget to experiment with some bold colors or monochromatic patterns. What is the best part about it? You get an aesthetic wall that is Instagram-worthy!
2. Please your Baby with the Flock Together!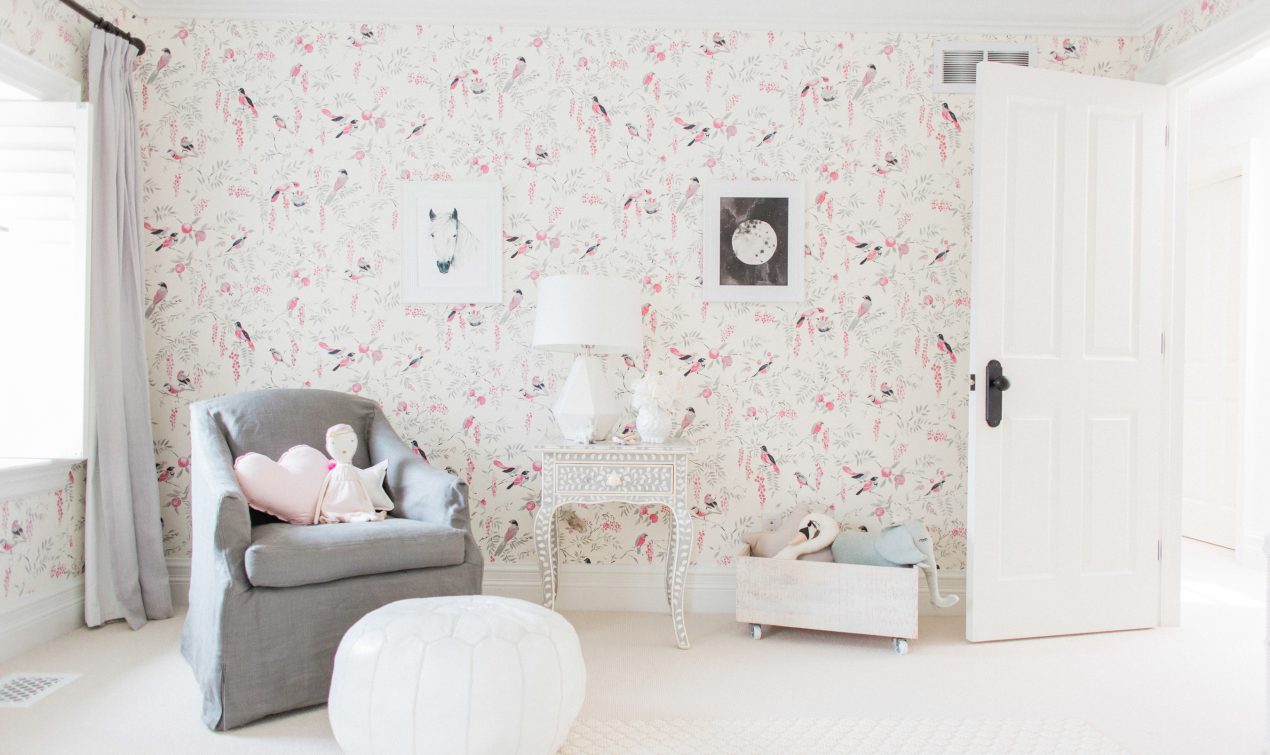 Adding a wallpaper featuring birds will never fail to please the baby, even in its growing years. So without any doubt, you can make the wallpaper print with birds a part of the room for your baby girl's nursery. To enhance the overall look, you can add details to the room. Use details like a complementing table, couch, or stuffed toys for an upgraded appearance of your nursery space.
A furry rug and a table that complements the overall look can be an option. Additionally, extra space can be covered by supplementing ornaments in the baby's room. With bird wallpapers, choose the color theme of the room carefully.
3. Go Wild with The Walls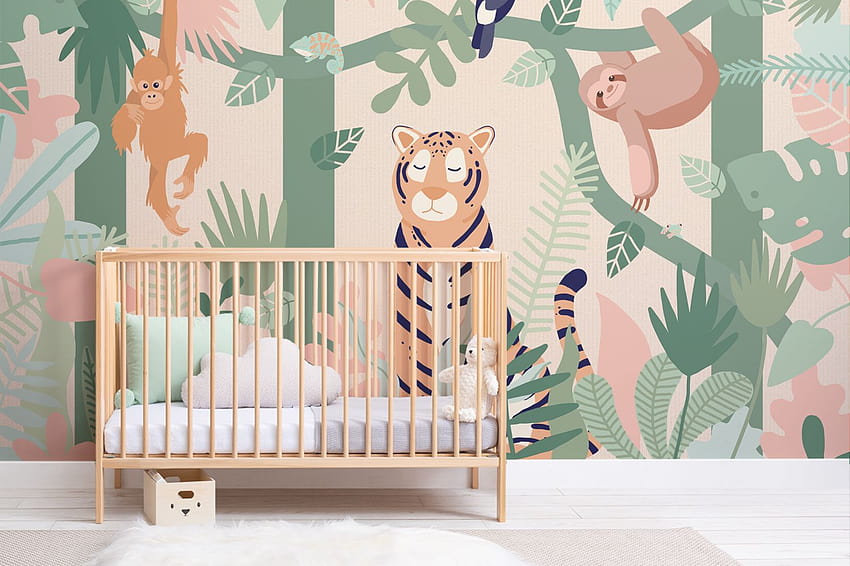 We do remember our parents telling us fun stories with animals as lead characters. And we all have to agree that we loved it. So what is stopping us from involving the same in your baby's room? One decor idea you might want to copy is being wild with jungle-themed wallpapers. Among different wallpapers, try wallpaper that focuses on a jungle theme.
Wallpapers are the most convenient method to do so. The idea of a jungle theme is to help your kids connect with colors, shapes, and pictures. This is because children pick these things first when compared to any other thing they learn. A jungle-themed wallpaper can be one way to explore your kids with different colors and things. Not only does it look amazing, but it boosts your child with energy.
4. A Jungle Theme without a Wallpaper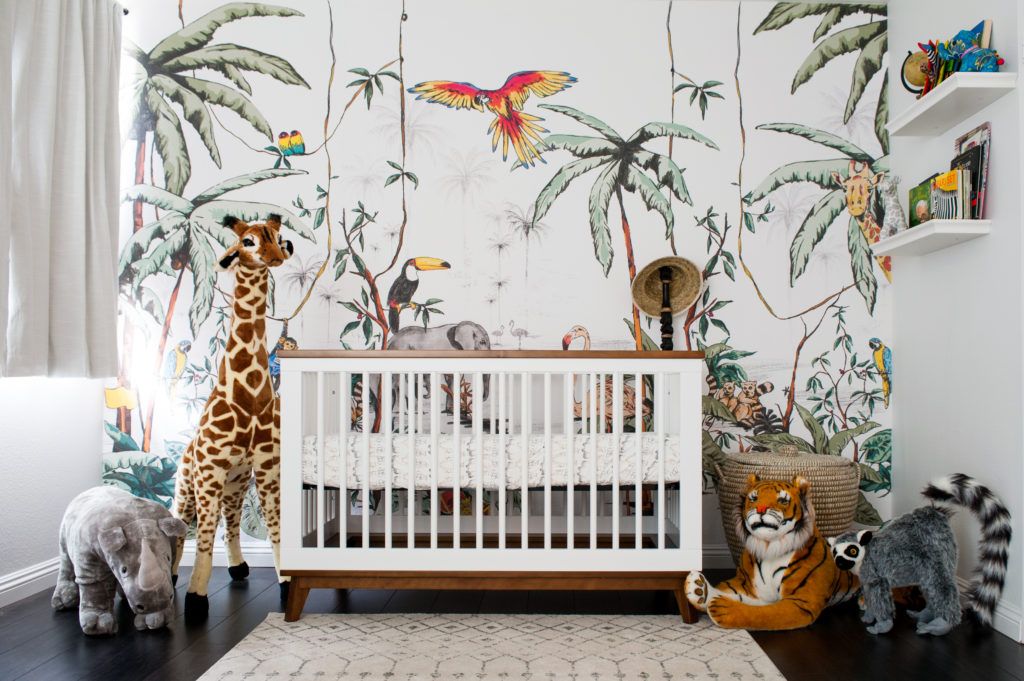 If you want to skip wallpapers for the wall and also want a jungle theme, we got your back. Start by keeping the walls neutral. You can create a similar decor idea by placing stuffed animals in your kid's room. Give your space a similar outlook with green foliage. If you want to skip the maintenance of plants, faux plants are there to save your day.
For more details, you can add stickers with a similar effect. A gallery wall dedicated solely to animals is never a failure for this theme. For playing, you can keep toys imitating animals in the baby girl's nursery. The reason why we should choose this theme is because it will boost a child's creativity.
5. Wonders with Flowers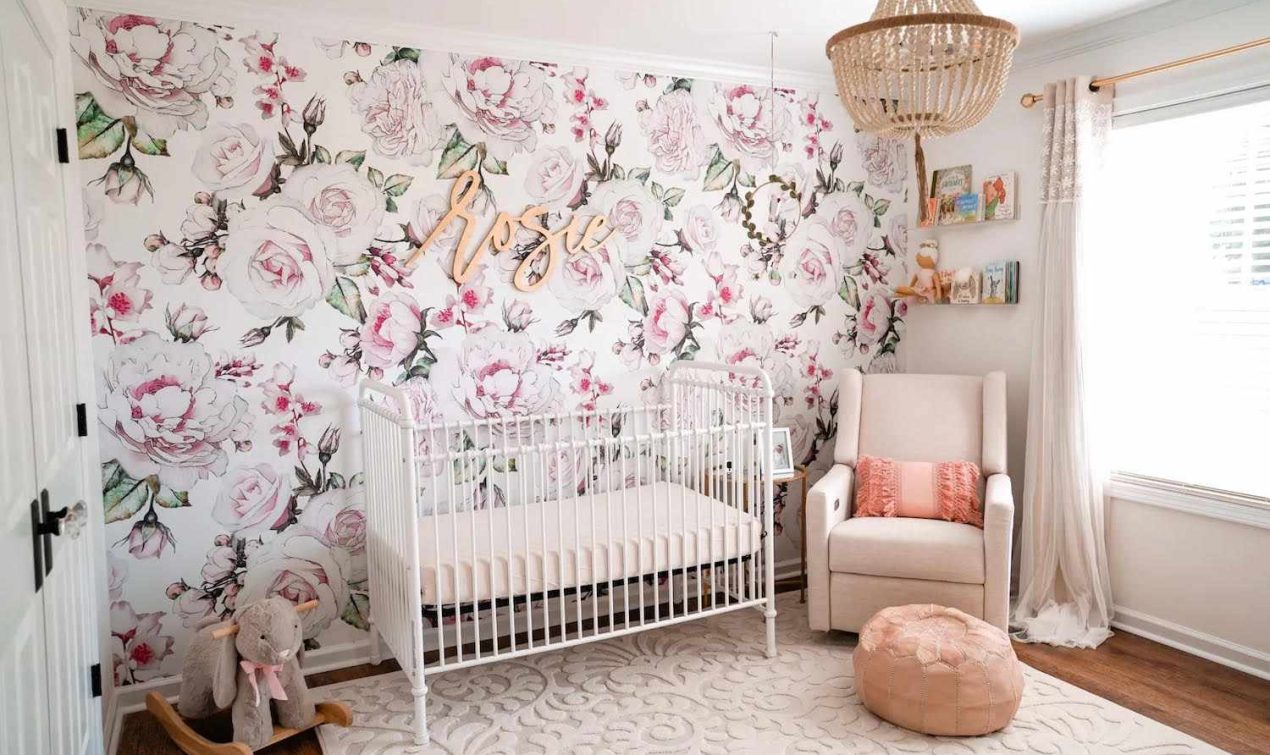 The ambiance of flowers brings way too many options for decoration ideas. The subtle colors, prints, and other statement decor ideas are perfect for a baby girl's nursery. You can start adding details by furnishing walls with flower decals. You can create flower collages on the walls to build a soft and subtle space for your little princesses.
Enhance the flower decoration by supplementing the outlook with a rug with a floral design. Floral mobiles are another part of decoration you can integrate with a baby girl's nursery. If you are considering flower decoration, make sure you don't overdo it and keep it clean but charming. Flower hangings and other decorative items can be used to enhance the appealing outlook of the theme.
6. A Touch of Pink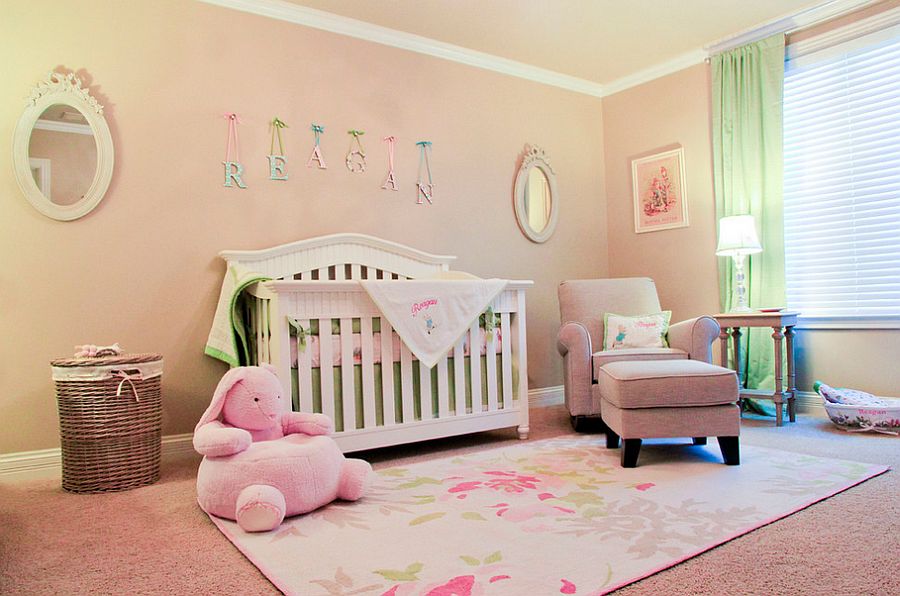 For a baby girl's nursery, a pink palette is still a popular shade. To experiment with this color, you can add refined details that fit perfectly with what outlook you want. The use of subtle shades with pink color will make it more intriguing. You can add shades of pink color on the walls. To do so, you can take the help of wallpapers, or you can paint in pink shades.
Minimal floral wallpapers enhance the overall look. A pink rug, along with a pink crib mattress with other details, will be no less than perfection. Brighter shades of pink can be replaced with earthy hues that will provide a vintage look to the room. The room can be ornamented with placing items like hanging mirrors, art pieces, and stuffed toys.
7. Nature-Inspired Details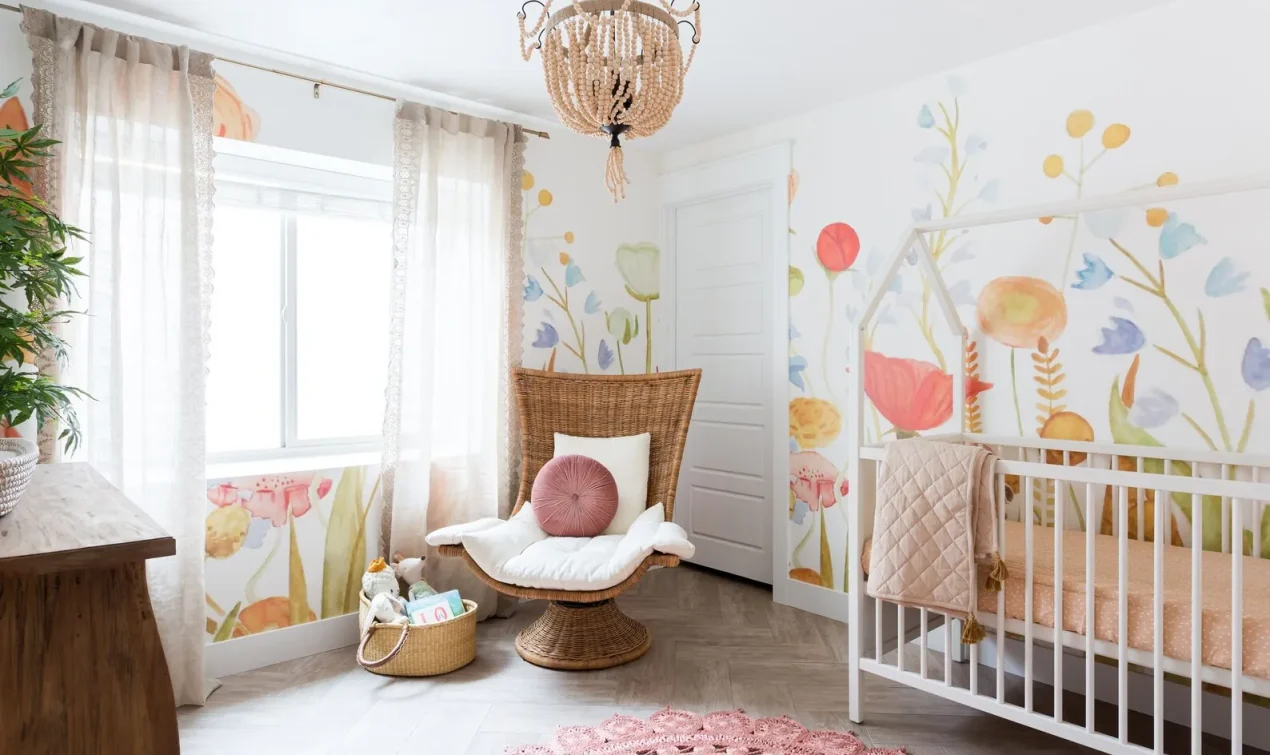 With nature-themed decor ideas, the options are limitless. If you want a baby girl nursery built in the same pattern, there are numerous great ideas you can opt for. Baby rooms with nature-inspired details come in many variations. From different nature-themed wallpapers to furniture that compliments the design pattern can be customized depending on your preferences.
For example, a wildflower theme that includes wallpaper prints along with minimal wooden furniture is one way to do so. Playing with geometry and creating a mountain in the accent wall is another interesting idea for nature-inspired themes. A few balloon stickers and subtle hues can be added using furniture to complement the outlook of the design.
8. Ditch a Boring Nursery with a Cactus Theme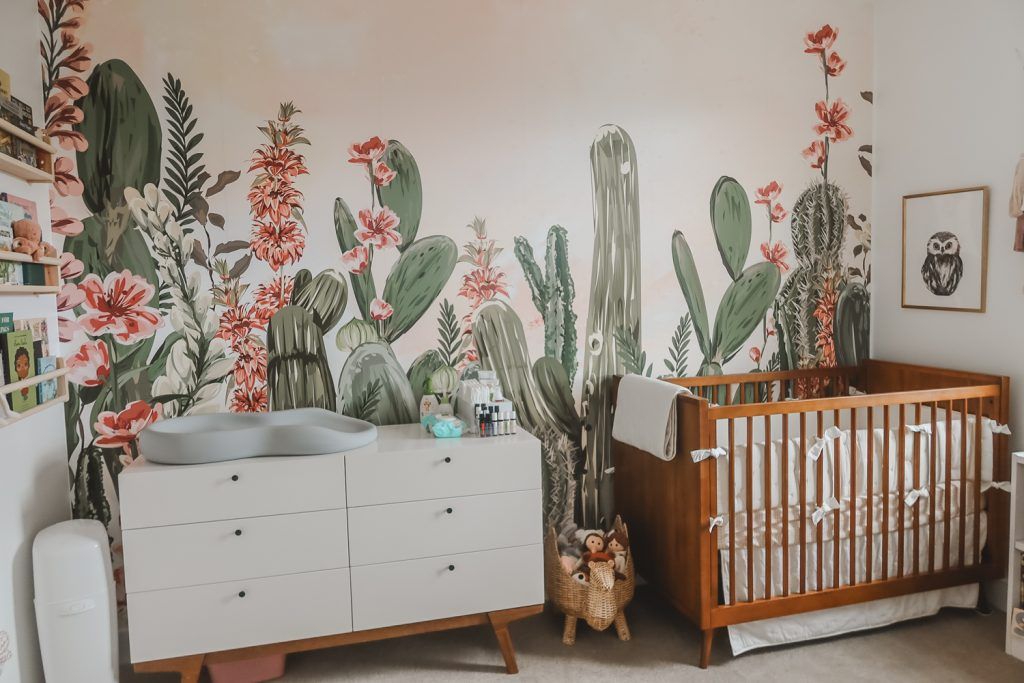 If you are a nature enthusiast, you absolutely will love this idea. A desert theme for a baby girl's nursery is stunning. A mixture of brown and green hues together will make the space look extravagant. You can use the wallpapers in green shades to add a gist of greenery to the wall.
If you want the theme to be obvious, you can specifically use prints of cactus instead of picking any other pattern in the greens. But simple green patterns, too, give a unique decoration to the nursery. Add the brown hues using brown curtains, a crib mattress, furniture, or a rug. For a better outlook, you can use faux plants and stuffed toys.
9. Bring in The Woods- Forest Theme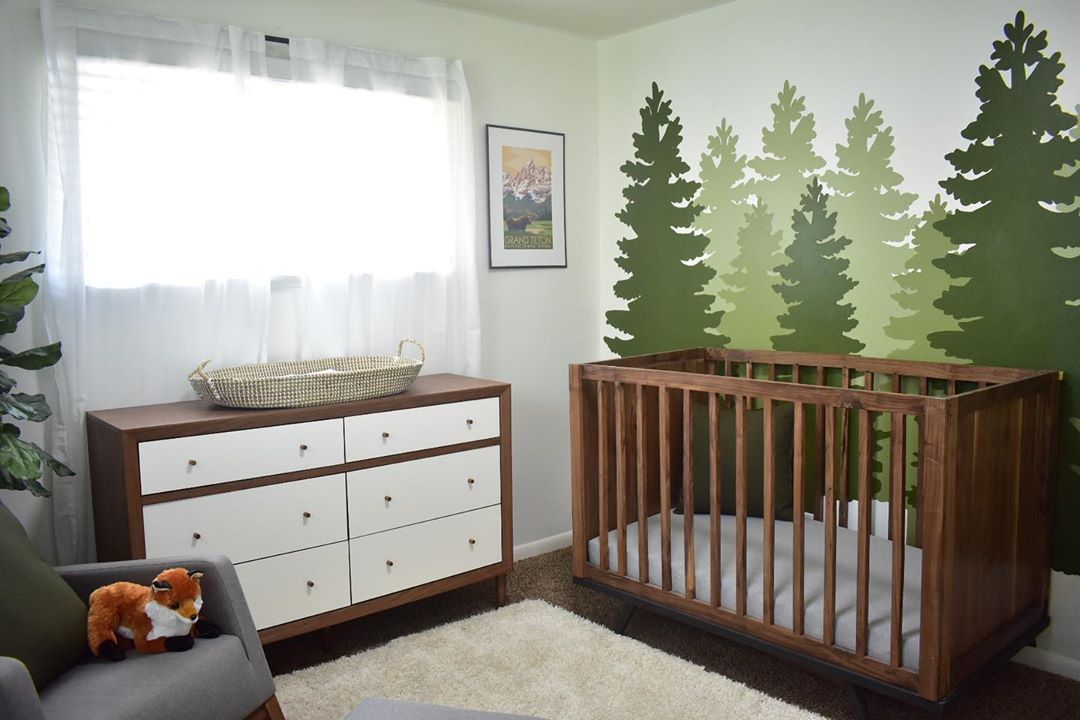 The forest theme is an easy-to-build baby girl nursery idea. This theme allows you to reuse a lot of items without compromising the aesthetics of your space for the baby. To start building a nursery with this theme, the first thing to begin with is your wall. You can do so by painting or simply sticking wallpaper or wall stickers.
The rug is a crucial part if you wish to imitate the warmth of woodland in the nursery. Wooden furniture can be used to complement the theme. Placing a few decorative items will enhance the overall look. Because this is dedicated to a baby, a few stuffed toys are never a fail. Another interesting item you can opt for decoration is crochet paintings similar to the effect you want to imprint.
10. Night Sky Nursery Area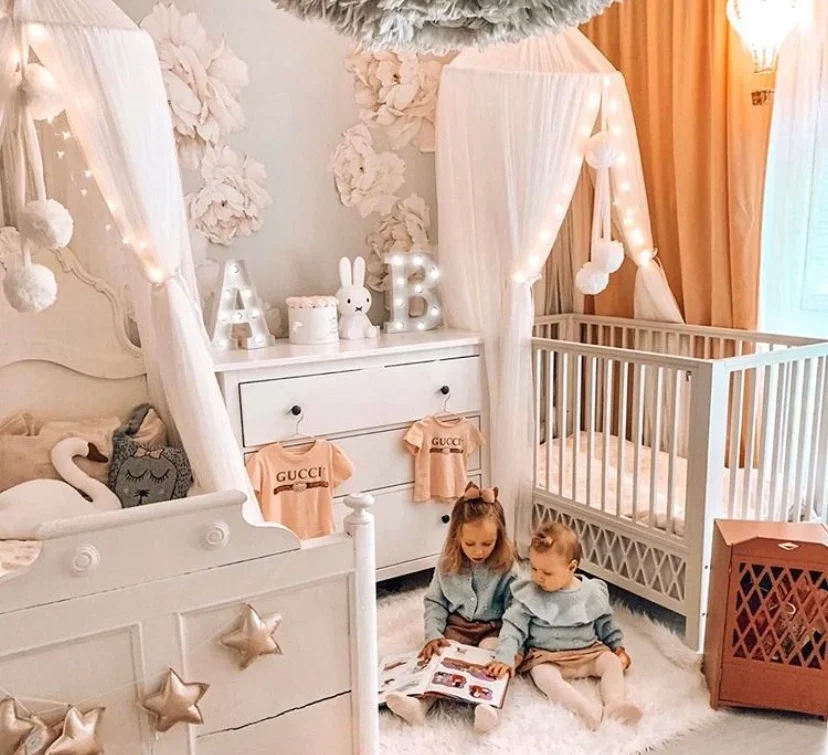 Everybody loves a starry night! So one interesting idea for building a baby girl nursery is to create a theme based on a starry night. Along with being soothing, the theme helps introduce the kid to the basics of shapes and objects. This baby girl nursery idea is the best if you are searching for gender-neutral options.
The color choices for this theme should be shades of aqua, Grey, and Teal. These hues must be used for accessorizing the ornaments for decoration. For this theme to be a success, you can use ceilings, walls, and floors. The ceiling can be used to either stick the stickers or attach hangings of stars and crescent moons. If you want to avoid the use of a ceiling, you can decorate the room in a similar manner by using your wall. Rugs that will tag along with the theme must be used. The curtains and crib mattress can be used in the hues that go with the theme to enhance your nursery area.
11. Sunshine & Rainbows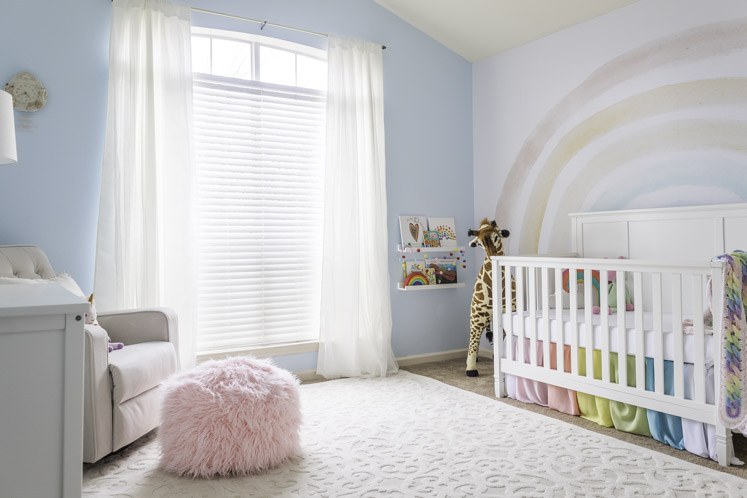 Rainbows radiate positive energy and playfulness. Its radiance of positive feelings is why it is one of the baby girl nursery ideas. There are numerous easy themes that can be curated at your home. An accent wall is a place you need to start with the theme.
You can use the whole wall for painting different hues of the rainbow or stick with smaller rainbows spread through the featuring wall. If you want to ditch the rainbow pattern, introduce all the colors of the rainbow rather than the whole rainbow. If the crib is placed in the corner, you can paint your corners and make it colorful & playful. The other color palette you use must sync with the rainbow theme.
12. Playing with Shapes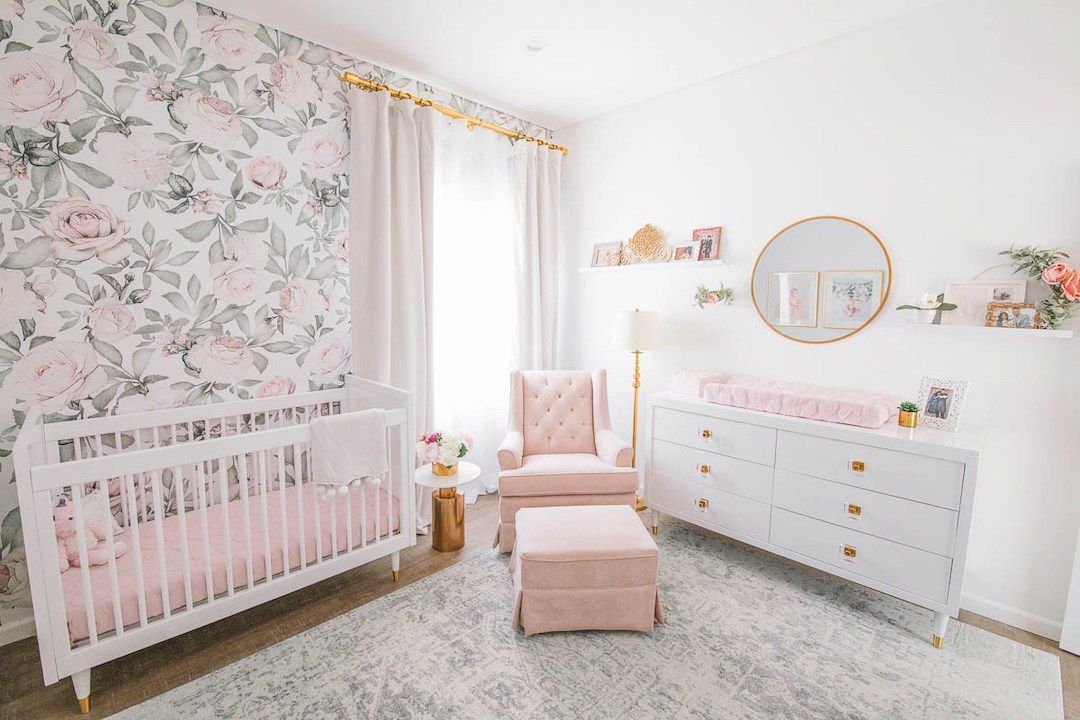 The structural element of the ornaments and furniture you choose in the baby girl nursery will dictate the overall look. The trick here is to exploit the structural features of the furniture and ornaments to make your nursery look flawless.
It requires no extra effort, so for minimalists, this baby girl nursery idea will surely be a hit. Using structural elements in the room will define space and will give you space for creativity. For instance, you can use round mirrors with box-shaped cabinet cum dressers.
13. Soft Texture for Your Baby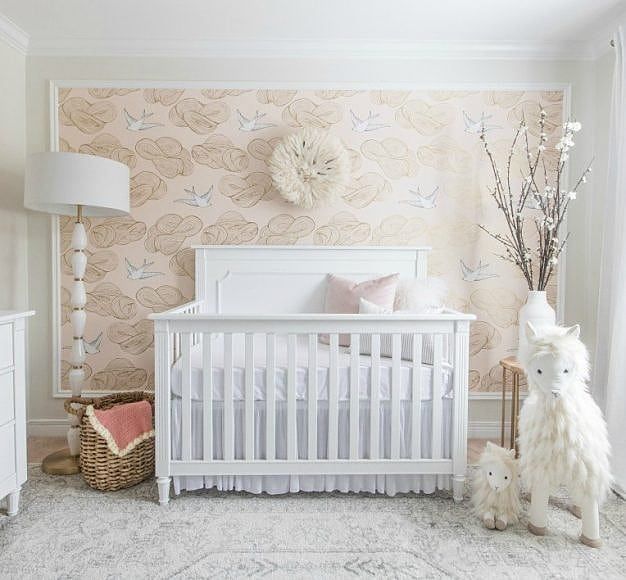 Pair up the baby girl's nursery room using soft textures in decorative items you are using for the nursery. Not only does this make the nursery of your kid inviting, but it also adds a touch of elegance and luxury. A feathered juju hat above the crib is one way to enhance the soft outlook of the nursery.
Faux Pam-Pam grass, feather wall hanging, & feather dream catcher are a few options that can be used. Tall branches with feathery leaves of faux plants can be placed in vases to complement the theme. Stuffed animals, too, can be placed near the crib or in the corners. When opting for stuffed animals, a pair of mother-daughter duos will represent the emotional aspect of your bond in the room decoration.
14. A Playing Space for Your Girl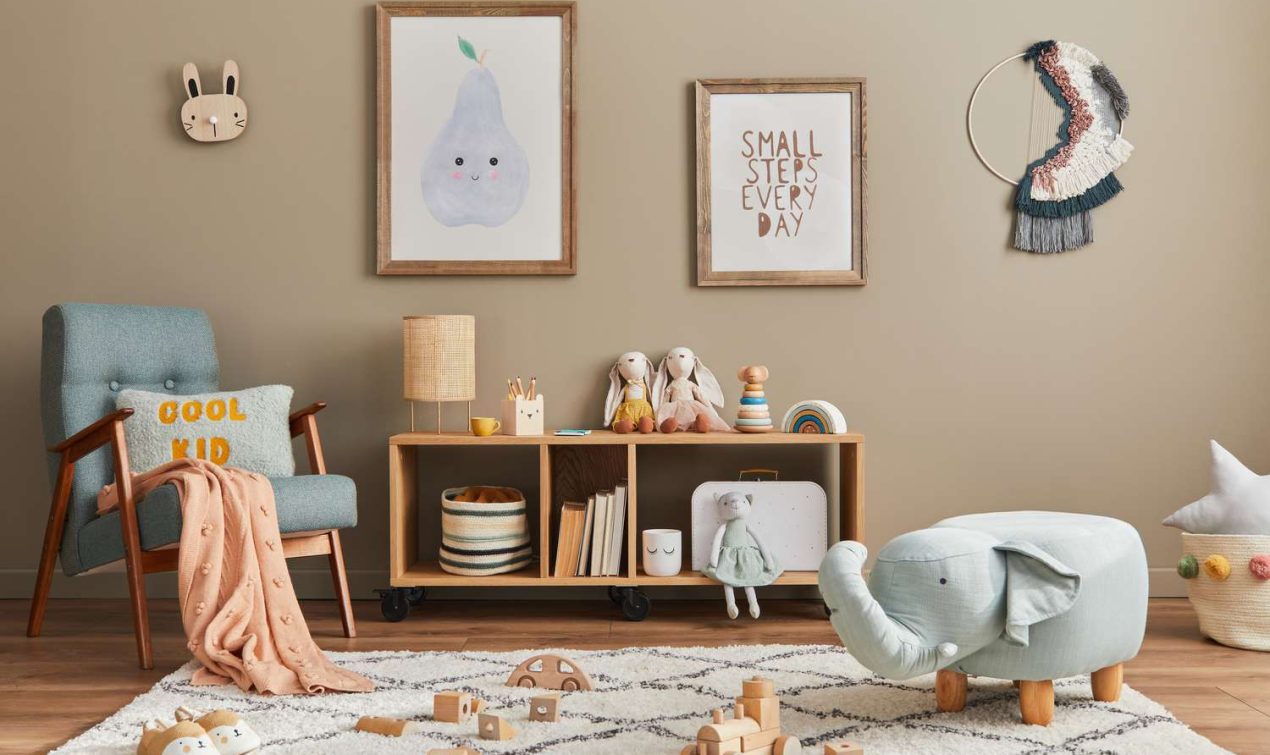 It is no doubt that your baby will need toys to play around even if she's very young. Giving her enough toys is good until she makes a total mess. Why not utilize her toys and place them as decorative items instead of spending more on other ornaments? Toys near her crib area will allow her to have a bit of independent time.
Toys, if cautiously chosen, are beneficial in improving the motor functions of kids, so it is a win-win situation. Stuffed toys, stackers for kids, or even a doll house can be used for this purpose. This nursery decor idea will together boost your creativity and entertain your kid.
Conclusion
Designing a baby girl's nursery is filled with anticipation and excitement. Throughout the blog, we discussed various themes you could follow to build a perfect space to see your girl grow.
The use of wallpapers features wall decorations, so the theme will decide the type of wallpaper you need. The theme can be the woods, starry nights, the jungle, or a finely curated minimal pattern.
The furniture and decorative pieces come in handy to enhance the themes you choose. The choices are so many, but it will be in your hands to pick the best for your baby girl. And we are sure that you will make the best of it for your baby.
Comment below and let us know the nursery decoration you will surely copy for your baby!
Frequently Asked Questions
How to Ensure the Safety of Babies in The Nursery Area?
Ensuring safety is an essential part of the nursery space. For this purpose, your decoration ideas must meet the safety standard meant for kids. Make sure your furniture and decor items are kid friendly.
How to Make Storage Efficient?
With babies, managing their things can get a bit tricky. Place cabinets that go well with the decoration to eliminate storage problems. Add decor items that also serve functionality for storage.
Do Nursery Decor Ideas Serve Practicality?
If you are planning a nursery decoration with no prior knowledge & research, the aesthetics may become a trouble. Ensure that the decoration is more than just providing aesthetics that beautifies the nursery room. Add furniture and decor items that serve a function along with enhancing visuals.
b