20 DIY Wedding Card Box Ideas for Your Big Day
Welcome to the world of DIY wedding card boxes! Your wedding day is a special occasion filled with love, joy, and cherished memories. As you plan the intricate details of your big day, pay attention to the importance of a beautiful and functional card box to collect well wishes and tokens of love from your guests.
A DIY wedding card box offers the perfect opportunity to add a personal touch to your wedding decor. It allows you to unleash your creativity and craft a unique piece that serves its purpose and becomes a captivating element of your overall wedding theme. Whether you are aiming for a rustic, vintage, whimsical, or modern look, there are endless possibilities to explore.
This article presents 20 DIY wedding card box ideas that will inspire you to create something truly remarkable.
Best Wedding Card Ideas You Can DIY
The floral wreath wedding card box is a charming DIY project that combines a utilitarian card box with the gorgeous appearance of artificial flowers. Start with a plain box in the size you prefer if you want to build this lovely artwork. Choose various fake flowers in hues that match your wedding's color scheme. Arrange the flowers carefully and attach them to the box's sides to create a lovely wreath.
Make sure the flowers are firmly in place and dispersed evenly for an eye-catching outcome. Leave the top of the box open or cut a small gap for easy card insertion. This floral wreath box gives your wedding décor a bit of elegance and whimsy, plus it acts as a charming centerpiece where visitors can easily set their gifts.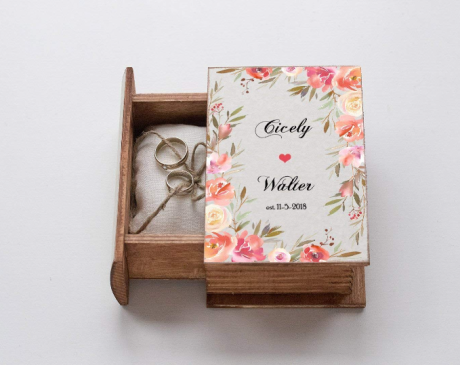 The Cinderella pumpkin wedding card box is a compelling DIY concept that adds a touch of fairy tale allure to your wedding. You can choose a pumpkin, especially one that is white or soft in color, which is recommended. It should be painted in a classy color that complements your wedding's style, like ivory or a gentle blue.
Once the paint has dried, gently carve a slot on the top of the pumpkin, ensuring the opening is large enough to accommodate playing cards. Glitter, ribbons, or even a glass slipper adornment can further adorn the pumpkin for whimsy. This charming card box is ideal for fall weddings or those drawn to the enchanted tale of Cinderella.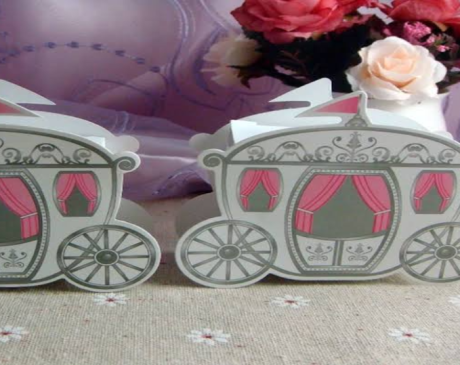 The acrylic box with engraving is a chic and contemporary DIY wedding card box design that gives your wedding décor a modern edge. Purchase a translucent acrylic box, which is readily accessible at craft or home improvement stores, to build this fashionable piece. Consider the size that best satisfies your needs and aesthetic preferences.
You can have the acrylic box professionally etched with details that are special to you and your partner. It might contain a sentimental quote, your name, your wedding date, or a monogram. The box gains a refined and personalized touch thanks to the engraving. This acrylic card box's transparent, simple design lets visitors see the cards within while retaining a classy, elegant appearance.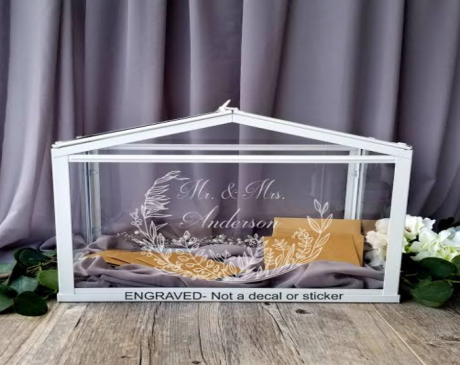 The vintage typewriter card box is a charming DIY project that gives your classic wedding flair and literary charm. Find a vintage typewriter at an antique, secondhand, or online store. Make sure it is in functioning order or is simple to fix. Placing the typewriter on a table or old desk and attaching a sign will instruct visitors to type their good wishes rather than writing them on conventional cards.
The sign can be customized with your name, the date of your wedding, or a catchy slogan like "Share your love story." The sound of the typewriter's keys clicking and its retro appeal will provide a memorable and engaging aspect to your wedding celebration.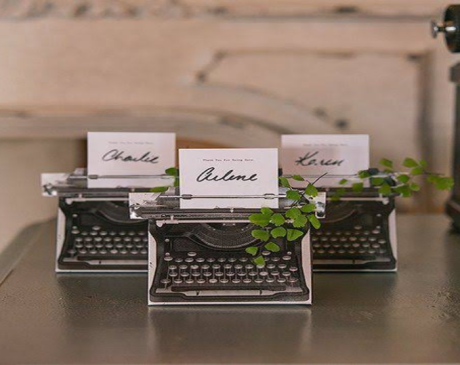 The birch bark box is a creative DIY idea for a cardholder that celebrates the wonders of nature and adds a bit of rustic charm to your outdoor or forest wedding. Birch bark sheets, available at craft stores or gathered from downed birch trees, should be gathered first. For your box, cut the bark into rectangular pieces that are the correct size. The bark pieces should be combined with solid adhesive or hot glue to create the box. Wrap some rustic twine around the box to add to its rustic appeal.
Tie the twine in a bow or knot for more visual flair. The texture of the birch bark and the earthy tones produce a natural and organic look that fits in perfectly with an outdoor environment. This card box offers more than just a rustic and unique way to collect good wishes from your guests but also serves as a beautiful décor element that complements the surrounding natural environment.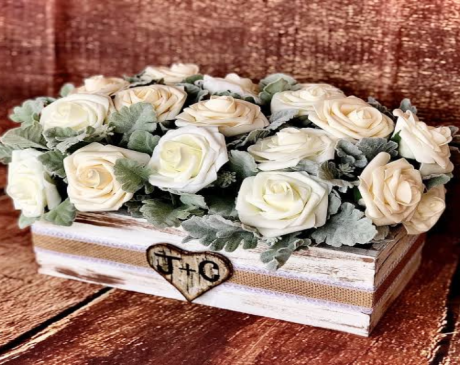 The geometric wedding card box is a chic and contemporary do-it-yourself project that gives your wedding décor a distinctive twist. To make this striking sculpture, you'll need wire or metal rods conveniently available at hardware or craft stores. To create the required geometric shape, such as a hexagon, triangle, or diamond, you must first bend the wire or rods into that shape. Using pliers or wire connectors, firmly join the edges.
Leave a space for a card slot on one side. You can further individualize the holder by spray painting the holder in your wedding colors or by including decorative accents like greenery or flowers. This geometric card holder is an elegant way to collect and display cards and is a contemporary desk accessory. This geometric card holder offers a chic way to collect and display cards and serves as a contemporary centerpiece or decorative accent for your wedding reception.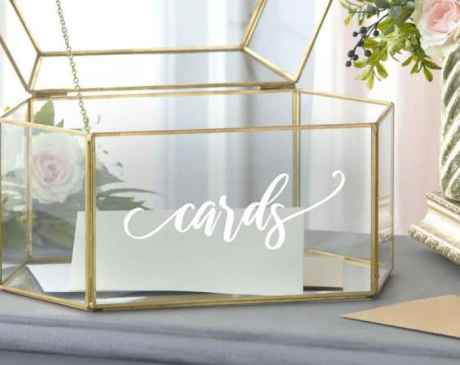 The fabric-covered hat wedding card box is a sweet DIY project that gives your wedding card box a touch of class and individualization. Start by selecting a stylish hat box that fits your style and the theme of your wedding. Select a cloth to cover the box's outside that coordinates with your wedding's colors and ensures a tight fit.
Use adhesive or a hot glue gun to hold the fabric in place. Afterward, affix a sign to the top of the box that says "Card Box" and includes a personalized message or your name and wedding date. Consider adding ornamental accents to the box, such as ribbons, lace, or fabric flowers accompanying your wedding theme. This fabric-covered hat box offers a chic and distinctive storage solution.
A beautiful DIY project that blends nostalgia, creativity, and practicality is the antique camera card box. This wedding card box concept is ideal if you or your partner enjoy taking pictures or organizing a retro wedding. Find a vintage camera that fits your sense of style and aesthetic. Ensure it is safe and steady by setting it on a stylish stand or tripod.
Make a card insertion slot big enough to go on top of the camera. Depending on the substance of the camera, you can gently drill a hole or use a craft knife. This unusual card box pays homage to the photographic medium and is a delightful centerpiece. Your visitors will value the originality and the chance to share their best wishes.
The rustic and loving wooden log with a carved heart is a sweet DIY wedding card box idea for your wedding. Find a robust, massive hardwood log with a flat top and start there. On the top of the log, gently carves a heart-shaped slot using a carving instrument or a drill. Ensure the slot is big enough for cards to fit easily.
Next, add your initials, your wedding date, or a special symbol inside the heart carving to make the log uniquely yours. The particular card box acts as a lovely and symbolic expression of your love, offering a charming spot for guests to drop their good wishes and tokens of love.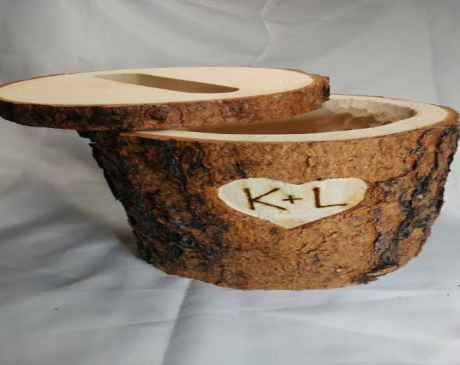 A whimsical DIY wedding card box design that pulls inspiration from nature and lends your wedding a magical touch is the bird's Nest box. Collect twigs of various sizes and shapes to make this wonderful sculpture. To create the nest's framework, arrange the materials in an oval or circular pattern. You can use hot glue or wire to join the twigs together.
Line the interior with moss to make the next look cozy and genuine. To replicate a bird's nest, complete the image by adding artificial eggs available at craft stores. The bird's nest card box excellently complements outdoor or garden wedding themes and evokes a sense of the beauty of nature.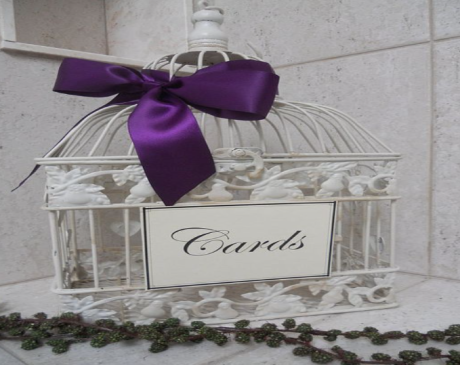 The glass lantern with fairy lights is a fantastic DIY wedding card box design that mesmerizes your wedding. Locate a glass lantern with a top aperture that fits cards in. To make the lantern stand out more, place it on a pretty pedestal or as the centerpiece of a table. Put delicate fairy lights inside the lantern, letting them cascade and shine inside the glass.
The sheer glass and inviting illumination of the lights produce a wonderful and mystical atmosphere. An interactive card box provides the opportunity to slot delivery of cards from above. Keeping true to its ornamental potential, the glass lantern with tiny glimmering bulbs serves as a splash of charm and simultaneously performs an excellent task of guardedly storing cards.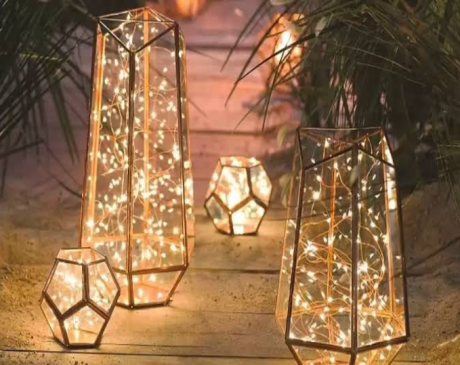 The vintage jewelry card box is a classy, elegant, and sentimental DIY project that gives your wedding decor a special touch. Look for an antique box with delicate embellishments and a style that suits you. To start, carefully remove the dividers or sections from the box to make more room. Next, make a card slot on the box's top or side that is big enough for cards to fit comfortably. You can gently carve the slot with a craft knife or tiny saw.
Keep the box's outside as is, or think about painting, staining, or varnishing it to make it look older. Not only can this recycled jewelry box double as a unique card collection, but it also becomes a cherished keepsake that adds a touch of nostalgia and elegance to your wedding.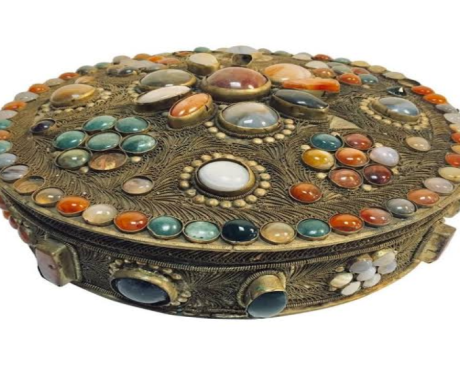 The wooden barrel with a hinged cover is a rustic-inspired DIY wedding card box that adds charm and authenticity to a barn or country-themed wedding. Look for a small wooden barrel frequently available online or at home improvement stores. Ensure the lead offense and shirts are smooth before fastening them to the top of the barrel. A lot was cut on the lid so visitors could place their cards inside. Consider staining or painting the barrel in color with your wedding's color scheme to enhance the rustic look. By including your initials or beautiful design, you may further personalize it.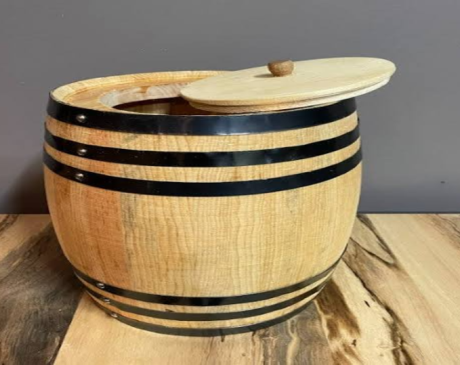 The floral hat box is a beautiful and feminine DIY card box idea that makes a stunning statement for your wedding decor. Choose a gorgeous hat box that matches your wedding theme and the topic of your wedding to start. Choose long-lasting color-coordinated fresh flowers or choose high-quality artificial flowers for lasting impact. The flower should cover the head box either directly on top of the box or in a floral arrangement. Hot glue and floral adhesive can be used to affix the flowers.
For more elegance, include leaves or ornaments. The romantic-themed floral hat box makes a lovely centerpiece for your gift table or reception area while demonstrating your attention to detail. It holds the cards together and makes a beautiful flower arrangement that gives your special day a special touch.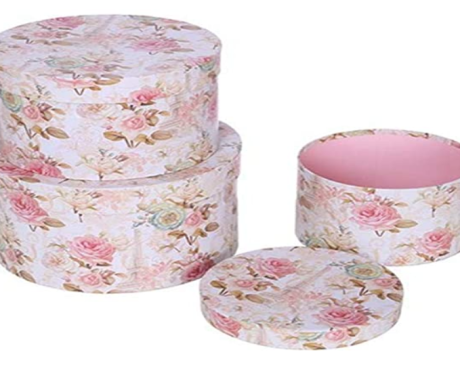 The picnic basket card box is a laid-back and informal DIY project that adds a hint of nostalgia and rustic appeal to your wedding. Look for a vintage picnic basket with a simple-to-open and simple-to-close top. Use fabric that complements the colors or theme of your wedding to line the interior of the basket. Put a sign identifying the basket as the card box and request people to place their good wishes inside on the front or top of the basket.
The sign can be customized with your name, wedding date, or a lighthearted message. The picnic basket card box adds a relaxed and friendly atmosphere to outdoor or summer weddings. It not only offers a practical and fashionable way to gather cards, but it also makes a lovely aesthetic addition that adds a touch of nostalgia and creates the atmosphere for a laid-back and fun party.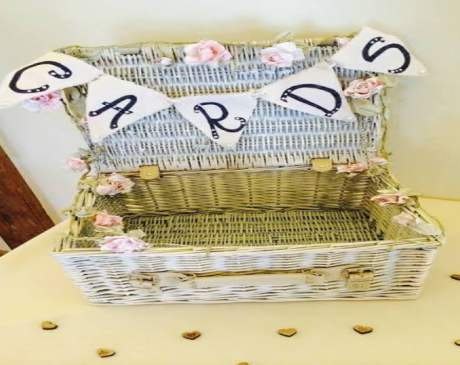 The vintage birdhouse card box is a whimsical DIY idea that brings a touch of charm to your garden or rustic theme wedding. Find a vintage birdhouse with a sturdy structure and remove any existing perches and entryways. Attach a sign to the front of the birdhouse, indicating it as the card box and adding a personal touch.
Create a slot on the top or side of the birdhouse large enough for cards to be easily inserted. This repurposed birdhouse serves as a unique card collection container and becomes a fun decorative element that adds character and nostalgia to your wedding. It blends seamlessly with garden settings, outdoor receptions, or rustic-themed celebrations.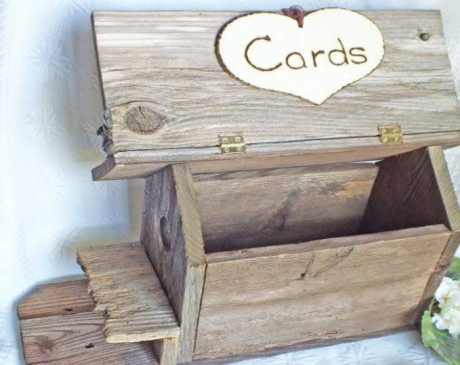 If music has meaning to you or your spouse-to-be, new heights of declaration can be hit with a modified guitar case card directory. Find a strong premonitory that still delivers – with aesthetics or silhouettes – and go wild! Create a colorful sense of who you are by employing preferred musicians' furnishing or cheerily letter-worthy stickers. This will leave a mark on your wedding commemoration and make it stand out distinctively with an incredible sensation expressed artistically.
To make it particularly special, consider adding your name, wedding date, or a musical motif. Make a slot for cards to be placed inside or on top of the case by opening it. This guitar case card box becomes a statement item that captures your love of music and is a practical and safe container for your wedding cards. It's an excellent option for couples who want to bring a little bit of their style to the party or for a wedding with a musical theme.
The floating lantern card box is a fantastic DIY project that brings magic to a wedding with a nautical or nighttime theme. Create miniature lanterns out of water-resistant materials or paper sprayed with a flame retardant. Add a slot for cards to be inserted on the top of each lantern. Fill the lanterns with LED tea lights or tiny floating candles to produce a beautiful illumination.
Release the lanterns into a pond or pool and watch them float beautifully while evoking a mystical atmosphere. Visitors can place their cards within the lanterns to represent their good wishes drifting into the future. This creative concept for a card box makes a lovely presentation and gives your wedding festivities a touch of mystery and symbolism.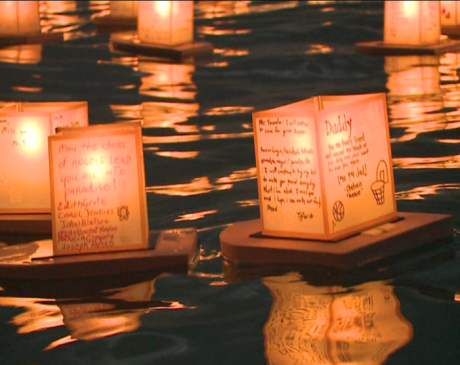 The tulle-wrapped wedding card box is a chic and classy DIY project that will stand out at your wedding. Begin with a large gift box to match the pallet of colors or motifs of your wedding. Put a delicate tulle scarf around the box and fasten it with tape or adhesive. To achieve a finished look, ensure the tulle is smooth and taut. Put a gorgeous bow on top using complementary ribbon or tulle to give the box a glitz. Make a card slot on the lid so visitors can quickly put their good wishes inside it.
This elegant and eye-catching gift box, wrapped in exquisite tulle, makes an impressive focal point for your gifting table and is useful too- it catches the cards that you collect. Its sophisticated and advanced style adds an atmosphere of indulgence and grandeur, making it a magnificent option for a wedding aiming to form an unparalleled and charming impression.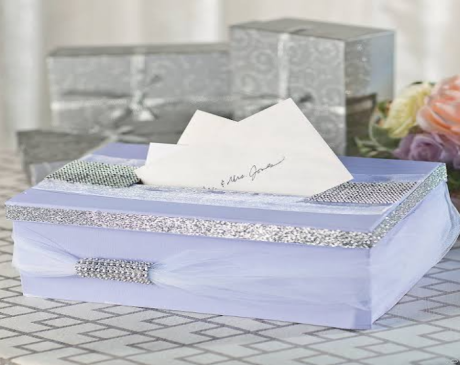 The flowery umbrella card box is a charming and original DIY project that brings magic to your garden or outdoor wedding. A decorative umbrella with flowers should be hung upside down from the ceiling or a firm project. Use an umbrella with a broad canopy and colorful blooms to make a visually stunning display. Add a sign identifying it as the card box and add a personal touch to the umbrella's handle or interior.
Make a card hole on the sign or close to the umbrella's opening so people can place their good wishes there. This creative card box transforms into a stunning centerpiece of your wedding decor and a good collection place. It gives the atmosphere a whimsical and romantic touch that will stay with your guests.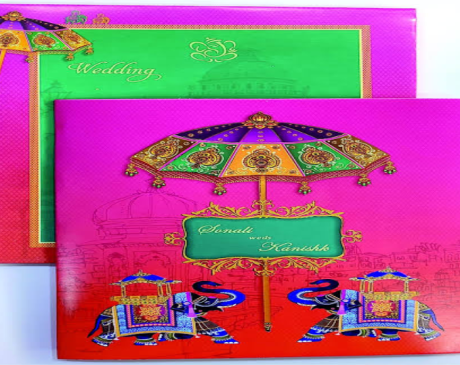 Conclusion
DIY wedding card boxes offer a wonderful chance to enhance your special day with a unique flair. There are endless options to fit every couple's style and theme, from elegant and classic patterns to wacky and original creations.
Making your own card boxes allows you to save money while also producing a priceless memory that will serve as a reminder of the joy and love you experienced with friends and family.
Your DIY card box will certainly turn into a wonderful centerpiece, encapsulating the happiness and warmth of your wedding day, whether it's a vintage-inspired suitcase, a rustic wooden crate, or a gorgeous floral arrangement.
Roll up your sleeves, use your imagination, and start this fun project to add a little more magic to your wedding celebration.
Frequently Asked Questions
How Difficult Would it Be to Make One of These DIY Wedding Card Boxes?
Depending on the precise idea you select and your level of crafting ability, the complexity varies. While some concepts may call for more complicated procedures or specialized equipment, others may be rather simple.
Can I Customize These DIY Boxes to Match My Wedding Themes?
Absolutely! DIY boxes can offer endless customization possibilities, allowing you to tailor them to match your unique wedding theme. You can use materials, colors, and decorative elements that go with your wedding outfit and the theme. A good wedding card box can enhance your wedding celebration.
Can I Use These DIY Card Boxes for Purposes Other than Collecting Cards?
Certainly, DIY boxes can be out to be used for a variety of purposes besides just holding cards. They can be used as elegant storage containers, memory boxes for storing keepsakes, or even as a floral arrangement's focal point. These adaptable boxes may be customized to meet your unique needs and tastes with little thought.